First Niagara Climbs After Senior Executives Purchase Stock
Elizabeth Dexheimer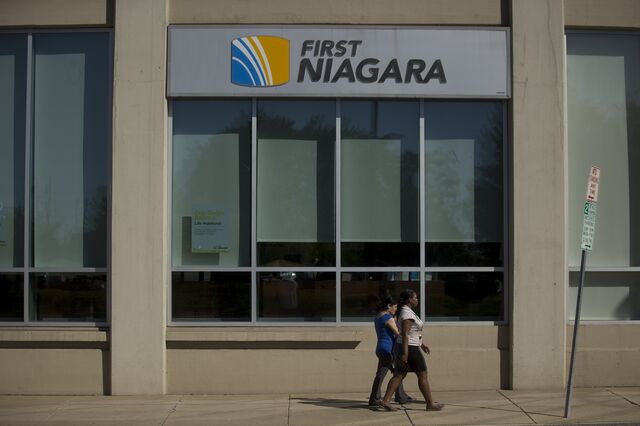 First Niagara Financial Group Inc. climbed 3.4 percent today, the most in the KBW Bank Index, after Chief Executive Officer Gary Crosby and other senior managers bought shares of the lender this week.
Crosby acquired 10,000 shares of the Buffalo, New York-based firm for $7.76 each and Chief Financial Officer Gregory Norwood bought an equal number for $7.60 apiece, according to regulatory filings yesterday. Executive Vice President Joe Saffire acquired 10,000 shares and board member Carlton Highsmith bought 15,000 shares, filings show.
A recent pickup in deals among regional banks, including BB&T Corp.'s Nov. 12 announcement that it agreed to buy Susquehanna Bancshares Inc., is focusing attention on underperforming lenders. Even with this week's gains, First Niagara remains the worst-performer in the 24-company KBW index this year and reported a third-quarter loss of $657.2 million.
First Niagara's share price reflects "the positive views on M&A following the Susquehanna deal and the belief that other regional banks may start to dip their toe in the game," Matthew Kelley, an analyst at Sterne Agee & Leach Inc., said today in a phone interview. "The other thing is clearly the insider buying."
First Niagara rose 27 cents to $8.08, ending the week up 8.5 percent. The shares have tumbled 24 percent this year, compared with the 5 percent increase for the KBW index.
The lender cut its profit forecast for the fourth quarter last month and increased its reserves by $45 million to address a "process issue" that affected some deposit accounts. First Niagara has also said expenses will rise as it spends money to improve technology systems.
Before it's here, it's on the Bloomberg Terminal.
LEARN MORE