Fallen German CEO Gets 3 Years Over Private-Jet Trips
Karin Matussek and Tino Andresen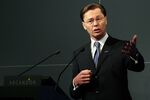 Thomas Middelhoff, the former chief executive officer of Arcandor AG, was sentenced to three years in prison after a German court convicted him of wasting corporate funds for trips on helicopters and jets in the years leading up to the company's collapse.
The former executive was convicted of improperly spending 500,000 euros ($623,000) of company money between 2005 and 2009, when the company filed for insolvency and Middelhoff was fired. Arcandor was the former parent of department-store chain Karstadt, which is still a fixture on German high streets.
Prosecutors claim private flights to London and New York and helicopters from Middelhoff's home in Bielefeld to Essen, where Arcandor was based, were private costs the company shouldn't have had to cover.
"You haven't been honest with us," Presiding Judge Joerg Schmitt said when delivering the verdict in the Essen Regional Court today. "Honor has a lot to do with honesty."
The court acquitted him on 17 of the 44 counts, saying some of the trips had a valid business purpose. Lawyers for Middelhoff didn't immediately reply to an e-mail seeking comment. The verdict can be appealed.
The 61-year-old Middelhoff, who was Bertelsmann AG CEO from 1998 to 2002, is probably the first head of a company once listed on Germany's DAX Index who will have to serve a jail term, lawyers said. Other corporate executives who ran afoul of the law generally escaped prison, receiving suspended sentences as part of a settlement agreement.
'Look Tough'
"There are limits to what top managers can do with company money," said Juergen Taschke, a corporate crime lawyer with DLA Piper in Frankfurt, who wasn't involved in the case. "Three years is adequate for the financial damage at issue here. It may look tough when a former top manager has to serve time. But the judges can't deviate from sentencing rules just because they have an executive in front of them."
Middelhoff was taken into custody after the court issued its verdict. His lawyers failed to get him released during an appeal and the judges will convene next week to hear further arguments on custody, court spokesman Johannes Hidding said by phone.
Middelhoff also made Arcandor pay 180,000 euros for a book published to honor former Bertelsmann CEO Mark Woessner. The court said Middelhoff should have paid for that himself since it was a gift among friends.
Lawyers for Middelhoff had sought an acquittal, while prosecutors asked the court to impose a prison term of three years and three months.
Since the demise of Arcandor, Middelhoff has faced various criminal probes and civil suits. The company filed for insolvency in June 2009. Middelhoff's home and office were searched in 2010 as part of one criminal probe.
Arcandor predecessor Karstadt-Quelle was a founding member of Germany's DAX Index of 30 largest companies before dropping to the MDAX in 2001.
Before it's here, it's on the Bloomberg Terminal.
LEARN MORE