The Difference Five Years Makes to China's Climate Stance
By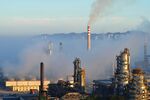 The plan to reduce carbon emissions announced by Barack Obama and Chinese President Xi Jinping in Beijing this week marked the first time China has committed to cutting its carbon pollution, setting 2030 as the target for beginning the reversal. The deal signals a huge shift in the diplomacy of climate change since a hoped-for global agreement fell apart five years ago.
Mark Lynas was in the room with President Obama, German Chancellor Angela Merkel, and other global leaders in Copenhagen in 2009 when China's delegate—then-Premier Wen Jiabao skipped the meeting—insisted on stripping out carbon reduction goals, not just for China but for developed nations as well, according to an account Lynas, who was there as an adviser to the Republic of Maldives, published in the Guardian days after that summit. China weakened the deal because "its coal-based economy doubles every decade, and its power increases commensurately," wrote Lynas, the author of several books on climate change, including Six Degrees: Our Future on a Hotter Planet. "I left Copenhagen more despondent than I have felt in a long time."
Scientists warn that this week's deal won't do much to alter the pace at which global temperature rise approaches 2C, considered a threshold for serious, irreversible damage to the earth's climate. Still, Lynas says he's optimistic. The agreement is "politically transformative, and that's exactly what the negotiations needed," he says. "The old firewall between developed and developing countries" is falling. The new dynamic will shape future climate talks in Lima next month and in Paris in 2015.
Why did China's leadership turn around so dramatically in five years? The country has ample reason to want to reduce its emissions. Heavy pollution spurs domestic discontent that could threaten political leadership. China also has a strategic interest in lessening its dependence on energy imports—this year it became the largest importer of oil.
International backlash after the disappointing outcome at Copenhagen also played a role, Lynas says. "I just don't think that the Chinese leadership was used to having the glare of the world's media all over it and criticizing its activity behind closed doors," he says. "That's just not how it works in China."
Lynas says China's government was angry about his Guardian account, and lobbied the leaders of Maldives to remove him as an adviser. (He no longer advises the country since former President Mohamed Nasheed left power in a political crisis.) As recently as two weeks ago, Lynas says, he was denied a visa to travel to China.
Before it's here, it's on the Bloomberg Terminal.
LEARN MORE