Won Intervention Seen as Toyota Beats Hyundai: Chart of the Day
Kyoungwha Kim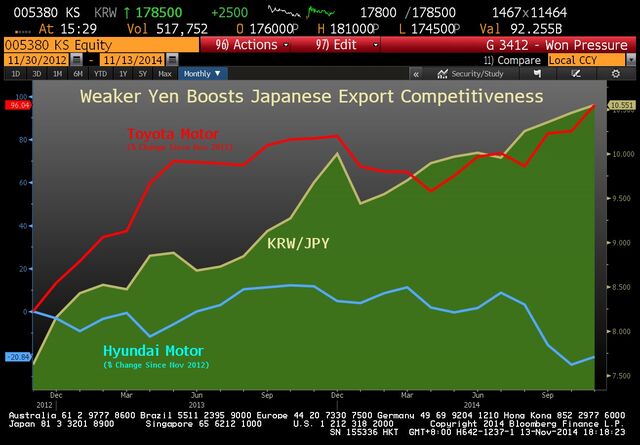 The won's surge to a six-year high against the yen is hurting Hyundai Motor Co.'s shares and boosting Toyota Motor Corp., prompting speculation the Bank of Korea will step up intervention to weaken its currency.
The CHART OF THE DAY shows South Korea's top automobile maker has fallen 21 percent from a month before Shinzo Abe was re-elected as Japan's Prime Minister in December 2012, while Toyota's has almost doubled in the same period. The won has surged 45 percent in the past two years and reached 9.39 per yen on Nov. 3, the strongest since August 2008.
"We believe the Bank of Korea doesn't want to see further loss of competitiveness and will engineer a weaker won," Jonathan Webb, head of currency strategy at a unit of Jefferies International Ltd. in London, said in an interview yesterday. "This has had a marked impact on the relative performance of Toyota against Hyundai." He recommends selling the South Korean currency to buy dollars.
The yen extending its decline after the Bank of Japan boosted stimulus two weeks ago increases pressure on South Korean exporters, and may hurt makers of cars and steel, BOK Governor Lee Ju Yeol said yesterday after the central bank kept its benchmark interest rate at a four-year low of 2 percent following reductions in August and October. Nomura Holdings Plc forecasts cuts in January and April to a record 1.5 percent.
Hyundai Motor, which derives more than a half of its revenue from overseas sales, posted a 29 percent drop in net profit for the third quarter from a year earlier. In contrast, Toyota on Nov. 5 raised its net-income forecast for the 12 months through March 2015 to an unprecedented 2 trillion yen ($17 billion) from its previous estimate of 1.78 trillion yen.
Webb from Jefferies predicts the won will decline 1.1 percent to 9.6 versus the yen before year-end and slide a further 4 percent to 10 by the end of June. The South Korean currency was little changed at 9.49 late yesterday in Seoul, and weakened 0.1 percent against the dollar to 1,096.76, according to data compiled by Bloomberg.
Before it's here, it's on the Bloomberg Terminal.
LEARN MORE