When Presidents Attack (on Social Media)
It's an old-fashioned hashtag war. You know, just like Washington and Adams used to do.
By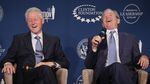 Former Presidents Bill Clinton and George W. Bush are taking the buddy comedy to social media.
For those who've not been following the presidential hashtag trash-talking, here's a quick primer. On Wednesday night, Clinton posted a tweet saying that he received his copy of "41: A Portrait of My Father," Bush's biography of his dad and fellow ex-president, George H.W. Bush. At the end of the post, Clinton issued a hashtag challenge to Bush #43, asking why the former president was still not yet on Twitter.
Bush responded a few hours later on another social media site, Instagram, with his own challenge—for Clinton to join the photo-sharing site. He attached a screenshot of Clinton's tweet and made the following comment: "Thanks, 42! Hope you like the book about your pal, #41. #HowAreYouSTILLNotOnInstagram #PresidentialGrammers #BrotherFromAnotherMother"
The two men have become fast friends since leaving office, popping up all over the country together. That could change, of course, if Bush's brother, Jeb, decides to challenge Clinton's wife, Hillary, in the 2016 presidential race. For now, at least, they're sticking to friendly trash talk. 
"Look, I'll still like him [Bill Clinton], if Jeb — when Jeb beats Hillary," a smiling Bush told Fox News in a clip of an interview that aired on Thursday.