U.S. Stocks Little Changed; Energy Rout Offsets Wal-Mart
Callie Bost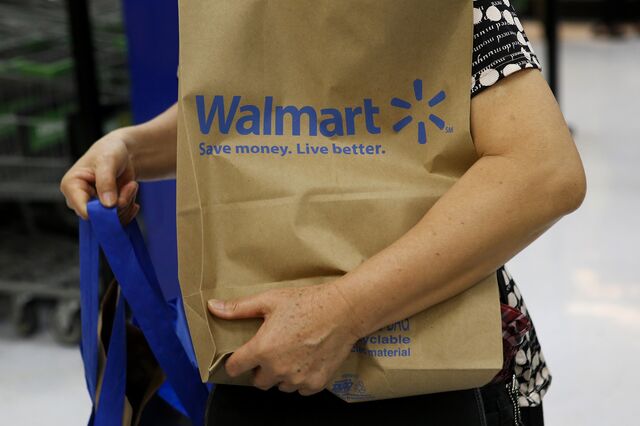 U.S. stocks were little changed near record highs, as better-than-estimated results from Wal-Mart Stores Inc. and corporate deals overshadowed losses in small caps and energy shares.
Wal-Mart surged 4.7 percent to an all-time high after earnings topped forecasts. Baker Hughes Inc. rallied 15 percent after a person with knowledge of the matter said Halliburton Co. was in talks to buy it. DreamWorks Animation SKG Inc. jumped 14 percent after reports Hasbro Inc. is in talks to buy the studio. Exxon Mobil Corp. paced losses in energy shares as crude sank. Microsoft Corp. passed the oil producer as the second-biggest company in the Standard & Poor's 500 Index.
The S&P 500 rose 0.1 percent to 2,039.33 at 4 p.m. in New York, closing less than one point from a record. The Dow Jones Industrial Average climbed 40.59 points, or 0.2 percent, to 17,652.79, an all-time high as Wal-Mart and Cisco Systems Inc. led gains. The Russell 2000 Index of smaller stocks sank 0.9 percent to halt a six-day rally.
"We had a pretty big run-up within the month of November and late October and we've seen a slowing of the momentum recently," Joe Bell, a Cincinnati-based senior equity analyst at Schaeffer's Investment Research Inc., said by phone. "From the context of a price standpoint, we're due for a breather."
The S&P 500 retreated yesterday for the first time in six days, after rallying 9.5 percent from a six-month low in October to an all-time high as better-than-estimated corporate earnings and economic data boosted confidence the U.S. economy is weathering a global slowdown. The index trades at 17 times forward earnings, its highest valuation since December 2009.
Small-Cap Slide
Investors sold the recent rally's biggest winners today. The Russell 2000 had surged 13 percent over the past month through yesterday, the biggest 30-day increase since August 2009.
The Chicago Board Options Exchange Volatility Index climbed 5.9 percent to 13.79. The gauge of S&P 500 options prices has increased 5.1 percent this week.
Data today showed applications for U.S. unemployment benefits rose more than forecast last week, representing a pause from a recent run of readings close to a 14-year low.
"The market is just churning right now, looking for an indication of which direction the future is going to take," Peter Sorrentino, a Cincinnati-based fund manager at Huntington Asset Advisors Inc., said by phone. His firm oversees $1.8 billion. "There is no catalyst to get investors excited or to instill additional fear."
Wal-Mart Rally
Four of the 10 main industries in the S&P 500 advanced today. Phone stocks climbed 0.7 percent, while shares in consumer-discretionary producers added 0.6 percent for the biggest gains.
Wal-Mart rose 4.7 percent to $82.94 for its best day since 2008 and the biggest gain in the Dow. The world's largest retailer also said U.S. same-store sales grew for the first time in seven quarters. The sales increase signals that Chief Executive Officer Doug McMillon is making progress in his turnaround plan.
"One of the positives for the market are positive reactions from retail names to earnings," Schaeffer's Bell said. "A lot of the consumer discretionary sector had low expectations coming into this season, but we saw positive results from Macy's yesterday and Wal-Mart today."
Nordstrom Inc. advanced 2.2 percent to $74.88 in late trading after reporting revenue that topped estimates. The company finished the regular session 0.6 percent higher.
Kohl's Corp. slipped 3.2 percent to $56.07. The retailer reported third-quarter revenue and earnings that missed estimates and said fourth-quarter margins may be pressured.
Penney, Viacom
J.C. Penney plunged 8.5 percent to $7.10. The company posted an unexpected third-quarter sales decline as consumers restrained spending amid the choppy economic recovery and warmer weather hurt sales of seasonal merchandise.
Viacom Inc. led media shares higher, rallying 2.8 percent to $71.20. The owner of Comedy Central and Spike posted revenue and earnings that beat expectations, as the latest "Transformers" film and higher fees for networks like MTV countered lower advertising sales in the U.S.
Technology shares in the S&P 500 jumped 0.6 percent, while the Nasdaq 100 Index advanced 0.4 percent.
Cisco rose 2.3 percent to $25.68 even after forecasting sales that fell short of analysts' estimates. Level 3 Communications Inc. jumped 3 percent, while Apple Inc. climbed 1.4 percent for a third day of gains.
Energy companies slid 1.3 percent as oil prices extended a selloff. The sector has plunged 15 percent since reaching a record on June 23.
Exxon dropped 0.8 percent to $94.66. Helmerich & Payne Inc., a contract driller, slipped 6.7 percent to $79.79 for the biggest drop in the S&P 500.
Deals Activity
The energy sector trimmed losses after the Wall Street Journal reported the talks between Halliburton and Baker Hughes, in what would be one of the largest takeovers of a U.S. energy company in years.
Baker Hughes surged 15 percent to $58.75. The third-largest oilfield services provider has a market capitalization of more than $25 billion. Halliburton rose 1.1 percent to $53.79.
DreamWorks Animation surged 14 percent to $25.52. The film studio, led by Jeffrey Katzenberg, is asking for more than $30 a share from Hasbro, said one of the people. The discussions are preliminary the people said. Hasbro sank 4.3 percent to $54.98.
Procter & Gamble Co. fell 1 percent to $88.60. Berkshire Hathaway Inc. agreed to pay $4.7 billion in P&G shares held by Warren Buffett's company to acquire the Duracell battery business. Berkshire Class B shares rose 0.5 percent to $146.29.
"These M&A deals that are happening lend a lot of support to the general investment psyche," Tom Sudyka, president of Lawson Kroeker Investment Management in Omaha, Nebraska, said in a phone interview. His firm oversees about $500 million. "Grinding higher is the best course at this point."
Before it's here, it's on the Bloomberg Terminal.
LEARN MORE