The Obamas Receive a Surprising Amount of Tchotchkes
The First Family is set for bejeweled knives and zebra skins.
By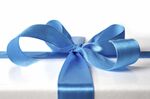 It's the most wonderful time of the year, because the State Department has released its annual gift register. 
Think of it as the Toys 'R' Us Big Book for visiting American dignitaries. It catalogs all the items that leaders from other countries have given to the president, his family, the vice president and various other government officials during trips abroad. And it includes a lot of decorative dishware. It's in the most popular category behind various types of art. 

In the most recent records, the First Family is reported to have received some 13 types of home goods, including decorative plates with Russian city scenes from Vladimir Putin last September, when the leaders were still on gift-giving terms. Michelle Obama received a "set of 12 silver spoons, bearing a 'lion passant' and leopard head markings with flowers in a polished presentation box." That came from the emir of Qatar, Sheikh Hamad Bin Khalifa Al Thani.
In the most expensive gift, the queen of Brunei gave the First Lady jewelry valued at more than $70,000. 
Far and away the most popular category, is that of art and tchotchkes, some 30 of which are logged. Painted portraits of the president (sometimes with the foreign leader giving the gift, sometimes with the whole First Family) are a classic, as are figurines and statues. Last October, then-Iraqi prime minister Nouri Al-Maliki showcased the region's ancient roots with a 15-inch "granite Hammurabi Obelisk" on a stand with inlaid mother of pearl. 
Other gifts to the president included a mounted zebra hide from the president of Tanzania, and a jewel encrusted knife from the king of Morocco.
A few dignitaries opted to include regional booze in their offerings, including several bottles of Pisco from Peru, Whiskey from the U.K., and a case of wine from Italy. 
Recipients don't actually get to keep the gifts. They go into storage or are used for official purposes, unless the official chooses to buy it from the General Services Administration.