Scene Last Night: Ogunlesi, Cohn, Langone, Ron Darling
Amanda Gordon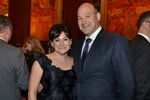 Gary Cohn ended yesterday, the day Goldman Sachs named a new class of partners, standing in a hall of dinosaurs. At the American Museum of Natural History, the president of Goldman Sachs said he felt a great sense of relief the selection process was over -- and he has 22 months until he begins again.
A 7:30 a.m. global teleconference of existing partners had started the day. Here the names of the new class were shared on screens, not on paper, to help keep the names confidential, Cohn said. The new partners were informed afterward, and by lunch it was time to celebrate, though the real celebrating would wait until evening, he said.
Cohn's night focused on a gala supporting the NYU Langone Medical Center's Hospital for Joint Diseases, Center for Musculoskeletal Care, and Rusk Rehabilitation.
Cohn has been treated for injuries suffered while skiing: The screw in his left thumb is from a tumble in Vail. He hurt his right thumb in Aspen and the top of one hand on another mountain, he couldn't recall which.
"He's my best patient," Keith Raskin, Cohn's hand surgeon, said. "He's back on skis. He's ready to play for the Yankees."
"Definitely not," Cohn said.
The gala honored Goldman partner Mark Dehnert and his wife, Mindy Nam Dehnert. Cohn was the chairman of the event, which also marked the 25th anniversary of the Harkness Center for Dance Injuries.
Chicken Dinner
Cohn and his wife, artist Lisa Pevaroff-Cohn, recently celebrated their 28th wedding anniversary with a dinner at Nomad. "We split the chicken," he said.
Also at the gala: Ron Darling, the former pitcher for the New York Mets, who said he liked paddleboarding; and Ken Langone, whose name is attached to the center for his gifts of more than $200 million. Asked about his generosity, Langone said he'd been blessed to be born in America and to succeed from humble circumstances thanks to the work of many people.
"My giving is out of gratitude and obligation," Langone, co-founder of Home Depot, said. And by the way, he added: "I'm keeping enough for myself that I'm having some fun."
Skiing is not part of the fun for Langone, nor is it for Thomas Kempner, the co-founder of Davidson Kempner Capital Management, who was found in Central Park last night at a benefit for the Central Park Conservancy.
Red Light
Kempner, chairman of the conservancy, which raises private funds to maintain the park, said his sport is cycling. He used to cycle outdoors -- "always being careful to stop at red lights" -- until he broke his pelvis. After 11 days at the Hospital for Special Surgery and 10 to 12 weeks of healing, he was "back to normal and riding again" -- indoors.
Kempner rides on a Velotron bike, while watching television or movies on his iPad: he's been catching up on "Homeland."
The sport at the party was dancing: the Starlight Orchestra was set up under a tent with a clear ceiling -- all the better to see the season's foliage.
Standing on the dance floor, 15 Central Park West's developer William Lie Zeckendorf said a bad knee keeps him from skiing these days. He now likes to windsurf in "Maui, Aruba, Oregon," he said.
Adebayo Ogunlesi, chairman of Global Infrastructure Partners, owner of London's Gatwick Airport and a lead director of Goldman Sachs, said he's on an elliptical machine every day and enjoys walking around the Central Park reservoir with his wife. It all sounded so sedate until he added, "I trek up the top of mountains." In 2011 he conquered Mount Kilimanjaro. "You should try it," he said.
Before it's here, it's on the Bloomberg Terminal.
LEARN MORE