Putin Gets a Brief Economic Respite From Mother Nature
By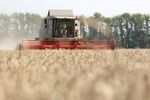 Russia's economy has taken blow after blow this year from Western sanctions, fleeing investment capital, and slumping prices for oil. At least Mother Nature is giving Russia a break.
The government today reported year-on-year growth of 0.7 percent during the third quarter, well above the 0.3 percent consensus of 21 economists surveyed by Bloomberg. The key driver was agricultural output, which rose 9.9 percent compared with the same period in 2013, when the country's grain harvest was hit by drought.
Alas for Russia, nearly all other indicators are headed in the other direction. Industrial and retail growth slowed during the quarter, and capital investment was down 2.5 percent, following contraction in the two previous quarters. And while oil prices started their decline during the period, things really fell off a cliff after the third quarter ended. Oil now hovers below $80 a barrel, a four-year low.
That, in turn, has hastened a collapse of the ruble currency, which has lost almost 40 percent of its value this year, stoking inflation and leading the central bank to jack up its key lending rate from 5.5 percent to 9.5 percent. Capital flight has accelerated from $61 billion last year to what's forecast to be $128 billion this year, according to the Bank of Russia.
The bottom line: Better-than-expected performance in the third quarter is "not a sign of the relative resilience of Russia's economy," says economist Neil Shearing of Capital Economics in London. "This is recession delayed." He predicts the economy will shrink 1 percent in 2015.
Evidence of pain caused by sanctions continues to mount, even as the U.S. and European Union mull possible new moves in light of escalating tension in Ukraine. State-controlled oil giant Rosneft, locked out of U.S. and European financial markets but facing $29.7 billion in debt repayments due over the next 15 months, is asking the government for a bailout. Sanctioned banks, including state-controlled Sberbank and VTB Group, are so strapped for hard currency that they're offering interest rates five to seven times the market rate to attract long-term dollar deposits from Russian exporters.
Capital flight has accelerated from $61 billion last year and is forecast to hit $128 billion this year, according to the Bank of Russia, which has trimmed its 2015 forecast to zero economic growth. The central bank "is facing the true reality," economist Vladimir Miklashevsky of Danske Bank in Helsini tells Bloomberg News. "Wishful thinking is over for now."
Before it's here, it's on the Bloomberg Terminal.
LEARN MORE