Persuading Israel's Tech Firms to IPO at Home
Entrepreneurs prefer to list their companies' shares in the U.S.
by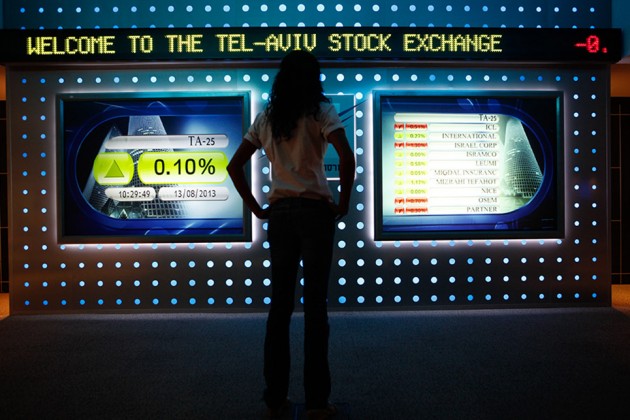 When 200 tech entrepreneurs and venture capitalists gathered in the lobby of the Tel Aviv Stock Exchange in September, Chief Executive Officer Yossi Beinart made sure to wear his customary suit and tie. Beinart, who opened the night of startup presentations from some of the world's hippest tech accelerators, didn't want to blend in with the casually dressed crowd. "I told them, 'I'm the only one here in a suit. So please, if you ever are on the verge of going public, remember the guy in the suit.' "
Beinart, who became CEO of the TASE in January, wants to bring the vibrancy of Israel's tech scene—a mix of software companies, biotechs, and medical device makers—to its stock exchange, where trading volume has declined 40 percent in the past four years. It's part of a strategy to increase the number of companies trading on the exchange, which has seen initial public offerings dwindle to 4 this year from 17 in 2010.
That was the year indexing company MSCI upgraded Israel to developed from emerging-market status, moving it from the MSCI Emerging Markets Index to the MSCI World Index. Israel became a much smaller fish in a much bigger pond: It accounted for 2.7 percent of the Emerging Markets Index and just 0.2 percent of the World Index. The move triggered an outflow of foreign capital as investors who use the indexes to compose their portfolios adjusted their holdings to match the new weighting. The loss of foreign investors drew money out of the Tel Aviv exchange, making Israel a less inviting place for companies to go public because there were fewer buyers for their shares.
While Israel has more active startups per capita than any foreign country, it also has more companies listed in the U.S. than any other except Canada. A record 10 Israeli companies have gone public in the U.S. this year, including Mobileye, a maker of driverless-car software. Mobileye has seen its stock price almost double since raising $1 billion in an IPO on the New York Stock Exchange in July, a record for an Israeli company. None of the four companies that listed in Tel Aviv this year were in tech. Only one tech company trades on the benchmark TA-25 Index.
"If I had gone public in Tel Aviv instead of the U.S., I'd have gotten a much lower valuation, simply because the people in Tel Aviv don't know the space," says Nir Zohar, president and chief operating officer of Wix.com, which offers free website-building tools to small businesses and listed on the Nasdaq Stock Exchange last year. "We are a global international Internet company, and global international Internet companies are being traded on the NYSE or the Nasdaq."
Some of that is the logical outcome of economic ties between the U.S. and Israel. Israeli entrepreneurs need a foothold in the U.S. to sell their products, and U.S. investors to fund them, so listing abroad is an obvious choice. But many Israeli companies are too small for U.S. markets, so when they need to raise money, they get swallowed up by foreign companies like Google or Intel, says Beinart. That's where he sees opportunity. "If you're small, growing, and you need another type of public market, I want to be that public market," he says. "If I can be the on-ramp to Nasdaq, I'm fine."
TASE executives expect that in coming months Israel's Knesset will approve regulatory changes to make it easier for tech companies to list at home. The measures include exemptions from certain disclosure and corporate governance requirements and a break on capital-gains taxes for tech investors.
Some of these ideas came before Beinart's arrival, says his predecessor, Ester Levanon, who stepped down in 2013 after she failed to persuade MSCI to include Israel in its Europe regional index—which might have drawn more investors. Beinart is going back to MSCI to appeal the decision. For all the challenges before him, Beinart is optimistic. "The world will come, because the world is interested in Israeli high tech," he says.
Before it's here, it's on the Bloomberg Terminal.
LEARN MORE