pursuits
Your Desk Is a Coffee Shop
How to make the best cup of coffee—from pro tips and travel kits to bean and app advice
Kurt Soller
The free stuff at work is always stale, and so what if Starbucks will soon offer delivery? A guide to making a better cup yourself.
Battle of the Fancy Kits
Comparing two new all-in-one offerings

What's in it? A collaboration between Blue Bottle Coffee and apparel maker Timbuk2, this travel kit includes a specially produced canvas bag, a rotary grinder, sample coffee, a portable plastic "dripper," paper filters, and two enamelware tumblers (with felt cozies) to brew directly into.
Cost: $179; timbuk2.com/blue-bottle-coffee-travel-kit/201.html
Should I buy it? Yes, but only if you have a private office and don't mind the camplike aesthetic.

What's in it? 3Sixteen, a luxe Los Angeles denim company, designed a handsome leather-and-brass satchel, then filled it with an Aeropress (a single-cup coffee plunger/brewer), an electric scale for measuring beans, and the same grinder as Blue Bottle's.
Cost: $305; 3sixteen.com/products/3sixteen-x-hcr-travel-coffee-kit
Should I buy it? Sure, but only if you really like the bag and already have your own stash of beans.
Can I really make coffee at my desk?
Jerad and Justin Morrison, owners of San Francisco's Sightglass Coffee, advise you
Q: This sounds hard.
A: It's simple. All you need is water, a grinder, a brewer, and coffee.
Q: What's the best method?
A: We prefer a Chemex. What's great about paper filters is you just lift and throw out the grounds when you're done.
Q: What's with all the videos on your website?
A: Coffee is very technical. But key things—grinding fresh, using very hot water, and brewing time—can easily improve what you're drinking.
Q: Are the rules set in stone?
A: No, not at all. Water-to-coffee ratios are standard, but they're just baselines.
Visit sightglasscoffee.com for more tips on brewing or to order some of the company's coffee beans.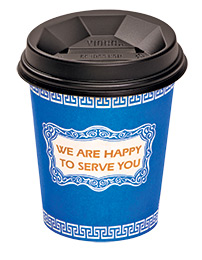 Drink on the go …
At long last, a better coffee lid. Viora (vioralid.com for more information) angles inward on all sides to highlight aromas—which improve taste—and prevents inconvenient splashing. It's perfect for West Wing-style walking and talking.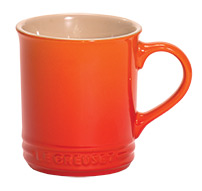 … Or in your office
Opt for a pretty ceramic mug such as this one from Le Creuset ($12.95; amazon.com) with a large handle and stain-resistant finish. The heavy stoneware makes it less likely to spill onto important papers. Best to drink within a half-hour, or you risk it going cold.



Plan Your Pick-Me-Up Accordingly
Three tips from Ted Kallmyer, caffeine expert at Caffeine Informer
1. Don't overdo it
Research says 300 milligrams or 400 mg of caffeine per day is optimal. Drink more, and you risk heart problems or jitters. The average 12-oz. cup has about 200 mg.
2. Schedule ahead
Have some an hour after waking and more right after lunch to avoid feeling sluggish. Don't have any after 4 p.m.
3. Give it up occasionally
If you stop drinking coffee daily, your tolerance will decrease in about a month. After that, caffeine will feel extra effective on days when you have a lot to accomplish.


For better beans, order online.
The Small-Batch Sampler
Experts at Mistobox.com curate whole beans from top U.S. roasters, then choose four 1.7-oz. bags for a monthly $19 delivery. The tasting notes on each package may seem funny—effervescent! tealike body! praline!—but they're helpful in deciding which to tear through first.


The Routine Upgrade
At Craftcoffee.com, you take a brief survey about your preferred roasts, tastes, and drinking habits, then get suggestions for bags of beans in various sizes (starting at $11.99), roasted across the U.S. Track your favorites on the site, then order at a discount if you pay upfront for six orders or more.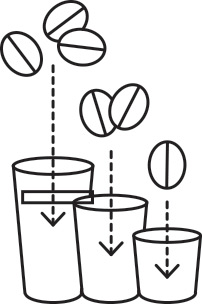 The Brew Snob's App
Brewsful (free; iPhone only) lets you input your preferred device, coarseness, cup size, and coffee-to-water ratio to get a precisely timed recipe for pouring water, brewing, then enjoying your next-level caffeine.
Before it's here, it's on the Bloomberg Terminal.
LEARN MORE