Joni Ernst Not Likely to be Power Player in 2016 Iowa Caucuses
Iowa Republicans say Ernst is unlikely to endorse a candidate competing in the 2016 Iowa caucuses. That doesn't mean she won't be courted.
By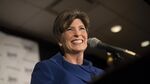 Senator Marco Rubio of Florida was an early investor in Joni Ernst. That investment probably won't pay big dividends.