Joni Ernst Not Likely to be Power Player in 2016 Iowa Caucuses
Iowa Republicans say Ernst is unlikely to endorse a candidate competing in the 2016 Iowa caucuses. That doesn't mean she won't be courted.
By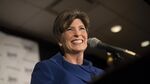 Senator Marco Rubio of Florida was an early investor in Joni Ernst. That investment probably won't pay big dividends.
In May, Rubio became the first potential presidential candidate to endorse Ernst, even before she won her party's Senate primary. Several other possible 2016 Republican candidates backed some of her primary rivals. Ernst went on to defeat Democrat Bruce Braley by 8.5 percentage points and become Iowa's first woman elected to Congress. In doing so, she's gone from being a little-known state senator and lieutenant colonel in Iowa's National Guard to one of the Republican Party's rising stars nationally.
None of that is likely to matter much in the 2016 campaign, according to Iowa Republicans who follow such things closely. "I would bet my last dollar that she won't endorse anyone," said Jamie Johnson, a member of the Republican Party of Iowa's state central committee. That would be in keeping with tradition. Top Iowa Republicans, including Governor Terry Branstad and senior Senator Chuck Grassley, have welcomed all and typically endorsed none.
"She is the favorite of two giants and I think she is very much going to respect their views and their style on the presidential campaign," Johnson said.
Ernst, who declined an interview request, was showered with supportive visits from prospective 2016 candidates during the final weeks of her campaign. Besides Rubio, she was also joined by New Jersey Governor Chris Christie, Senator Rand Paul of Kentucky, former Arkansas Governor Mike Huckabee and Texas Governor Rick Perry. Mitt Romney, who has sworn off a third presidential bid, also stumped with her.

"There's no question that she's a star in the state," said Mike Mahaffey, a former Iowa Republican Party chairman. "But I think she will be very ecumenical about 2016."
By the time the caucuses roll around, Mahaffey said Ernst will have only been in office just more than a year and will still need to be very deferential to Grassley and Branstad. "She was able to unify all aspects of the party," Mahaffey said. "I don't think she will do anything to harm that."
While Branstad often says he's biased toward governors as presidential candidates, Mahaffey said Ernst will have greater exposure to the senators who will run for president.
"They will be working with her," he said. "You are going to have more a sense of collegiality."