Hiring in U.S. Picks Up as Workers Gain Confidence to Quit Jobs
Michelle Jamrisko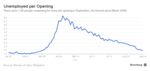 Employers hired workers in September at the strongest pace since the last recession began and more people quit their jobs than at any time in more than six years, showing Americans are gaining confidence that the labor market is improving.
Some 5.03 million employees were added to staff, boosting the hiring rate to 3.6 percent and matching July's reading as the strongest since December 2007, the Labor Department reported today in Washington. Some 2.75 million people resigned in September, pushing the quits rate up to 2 percent, the highest since April 2008.
Increasing churn, with more people entering and leaving, indicates the job market is looking more like it does during better economic times. The figures are among those that Federal Reserve Chair Janet Yellen uses to assess the employment picture and judge whether the economy is healthy enough to withstand a rise in interest rates.
"The good news in this report is really the fact that there's more fluidity in the labor market, more activity there," said Thomas Costerg, an economist at Standard Chartered Bank in New York. "People are ready to take more risks and seek jobs elsewhere."
Stocks were little changed, with benchmark indexes hovering near records, amid corporate deals and as better-than-estimated results from Wal-Mart Stores Inc. The Standard & Poor's 500 Index was at 2,038.31 at 11:36 a.m. in New York.
Job Openings
The report also showed the number of positions waiting to be filled eased to 4.74 million, second only to August's 4.85 million as the highest since January 2001.
"It's more of a technical moderation than a shift in trend," said Costerg, who had correctly projected openings would cool to 4.75 million. "The previous number had been quite strong so a modest pullback was kind of expected."
The hiring rate in September -- the number of people who got new jobs divided by the number who worked or were paid -- was still just short of the average of 3.8 percent during the previous expansion.
Today's Job Openings and Labor Turnover Survey, or JOLTS, adds context to monthly payrolls figures by measuring dynamics such as resignations, help-wanted ads and the pace of hiring. Although it lags the Labor Department's other jobs data by a month, Yellen follows the report as a measure of labor-market tightness and worker confidence.
The number of people quitting during the month rose from 2.51 million in August.
More Quits
"A jump in quits signals growing confidence on the part of employed workers that they will find another job elsewhere," Michael Feroli, chief U.S. economist at JPMorgan Chase & Co. in New York, said in a research note. Resignations have "been signaled out by Yellen in the past as a variable that she would like to see increase.'
The report follows figures last week that showed employers added 214,000 jobs in October after a 256,000 advance the prior month that was larger than first estimated. The unemployment rate fell to 5.8 percent, the lowest level since July 2008, from 5.9 percent the prior month.
The October data lifted the monthly average employment gain so far in 2014 to 228,500, which would mark the strongest year since employers added an average 264,750 per month in 1999.
Pockets of Weakness
At the same time, pockets of the labor market still show weakness, with two-thirds of the gauges on Yellen's dashboard not yet returned to pre-recession strength. The share of jobless who have been out of work for 27 weeks or longer rose to 32 percent last month, almost twice the 17.4 percent share in December 2007 when the last downturn began.
Judy Robinson from Hartford, Connecticut, a decades-long mortgage servicer who lost her job with NationalLink 14 months ago, said she's hopeful that networking with old colleagues and realistic expectations will help yield an offer soon.
"I don't mind going backwards a little bit -- because of this job market and because of my age, I expect that's going to happen," said Robinson, who last month completed a five-week job-help program targeting the long-term unemployed. "My outlook is not negative, but still nervous."
About 2 people are vying for every opening, up from about 1.8 when the last recession began in December 2007, according to today's report.
In the year that ended in September, employers added a net 2.6 million jobs, representing 56.6 million hires and 54 million separations.
Before it's here, it's on the Bloomberg Terminal.
LEARN MORE