Italians Say No to Risk as Slump Takes Toll on Startups
Lorenzo Totaro and Giovanni Salzano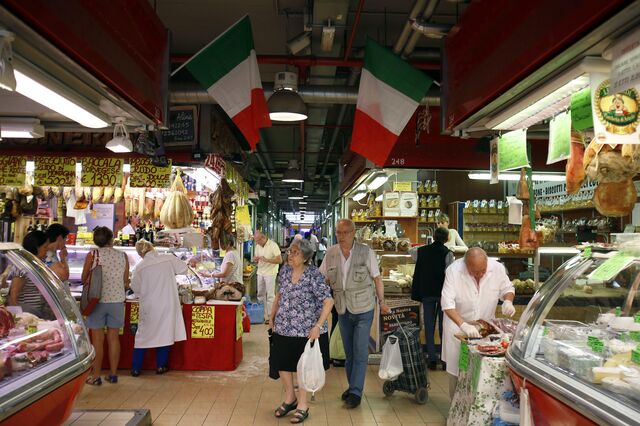 As a three-year long economic contraction shows little sign of ending, Italians are losing the impulse to take chances.
The number of businesses created in the third quarter was the lowest on record for that period, while the rate of companies collapsing shows no signs of slowing down, reports show. That's the fallout from a recession which has undermined confidence, making banks and venture capitalists reluctant to take risks.
"After such a streak of negative economic data, there is far less availability of capital around," said Silvano Spinelli, co-founder of Milan-based Ethical Oncology Science EOS SpA. "So people hold on tightly to what they have."
Italy's economy probably failed to grow for a 13th quarter in the three months through September, economists said before data scheduled for release tomorrow. With industrial output still more than a quarter below its pre-crisis peak and the unemployment rate at an all-time high, the nation has a long way to go to regain lost ground.
Things could turn from bad to worse if the number of new businesses keeps falling and there's an increase in the closure of existing companies, some of which are loaded with debts that they are unable to repay.
GDP Forecast
Italian inflation was at 0.2 percent in October, according to data today. While that's higher than September, when prices fell, it's down from more than 2 percent at the start of 2013. Tomorrow's gross domestic product report is forecast to show a 0.1 percent contraction in the third quarter, according to the median estimate of 22 economists surveyed by Bloomberg.
"The continuing weakness of the economy is the main factor of risk for firms in the months to come," the Bank of Italy said in a report today. "Unless a recovery gets under way, there seems little likelihood that financial conditions will improve significantly, especially for small firms and those producing for the home market."
About 73,000 businesses were created in the three months, according to an Oct. 27 report by Unioncamere, an umbrella organization for Italy's chambers of commerce. That's the lowest for that period since 2005, when the group started collecting the data. In the three months through September, about 56,000 companies closed down.
"The prolonged stagnation is harming output by curbing the push to create businesses and prompting a bigger number of entrepreneurs to file for bankruptcy," said Ferruccio Dardanello, president of Unioncamere.
Financial Difficulties
While it's too early to say how many of the closures were due to financial difficulties, the most recent data and forecasts on bankruptcies show the cumulative cost of the long economic downturn.
"With still weak consumer demand and scant credit available, small and medium-sized companies will keep suffering," Rome-based Cerved Group SpA, which provides credit information services, said in a report on firms with annual sales between 2 million euros ($2.5 million) and 50 million euros.
Cerved said last month that 24,000 of those businesses are at "high risk" of defaulting in the next 12 months. That compares with about 18,500 similar-sized companies that defaulted or started default procedures between 2008 and the first half of this year.
'Festering' Situation
"Italy's situation is festering," said Spinelli, whose company was sold to Boulder, Colorado-based Clovis Oncology Inc. a year ago. "Attracting investments to a country with a heavy tax burden for companies is not like doing that in nations such as the U.K., let alone Luxembourg."
Prime Minister Matteo Renzi's government forecasts economic growth of 0.6 percent next year. That compares with a projection this week by Moody's Investors Service, which said there's a chance the economy could again fail to grow in 2015.
In September, non-performing loans at Italian banks rose 19.7 percent from a year earlier, according to the Bank of Italy. In the same month, loans to the private sector were down 2.3 percent.
Italy's tax burden is set to rise to 43.4 percent of GDP in 2015 and 43.6 percent in 2016, the Finance Ministry said in its latest economic forecasts on Oct. 28.
Spinelli, 62, who founded EOS in 2006, said the government should focus on lowering the burden for new businesses and investments in innovation. He added that startups in the country would benefit from the support and advice of Italian and internationally experienced venture capitalists.
'Everything Possible'
"We are doing everything possible," Renzi told Italian researchers and founders of startups in the U.S. at a September meeting in San Francisco. "I want to change Italy into a simpler, beautiful and brave country so that you will need to come back home."
Renzi, 39, who became premier in February, has provided a tax rebate to low-paid employees. Nevertheless, with the jobless rate stuck at 12.6 percent in September, the cuts have so far failed to revive domestic demand.
The "unacceptable level of unemployment" in Italy and other nations of the euro region "goes against every notion of fairness," European Central Bank President Mario Draghi said yesterday at a conference in Rome. "It is the biggest form of waste of resources."
Before it's here, it's on the Bloomberg Terminal.
LEARN MORE