Ex-Massey CEO Scorned Over Mine Disaster as Charges Filed
Jef Feeley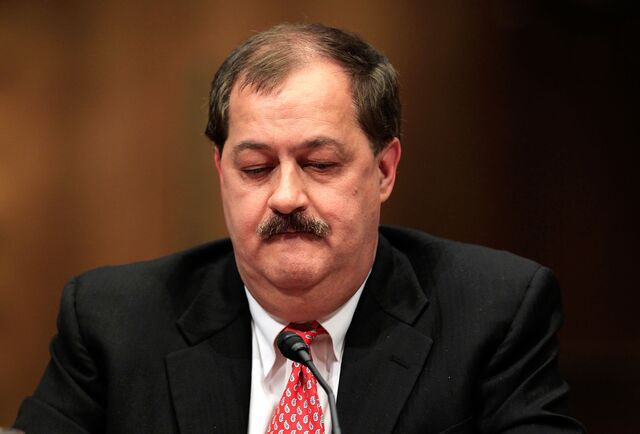 The former Massey Energy chief, scorned by regulators and a U.S. senator, may face three decades in prison if convicted of charges stemming from a West Virginia mine explosion that killed 29 workers, the worst U.S. coal industry accident in almost 40 years.
Donald Blankenship was charged in an indictment by a U.S. grand jury in Charleston, West Virginia, with violating federal mine safety standards, impeding regulator efforts to inspect the Upper Big Branch mine and securities fraud. Massey was acquired by Alpha Natural Resources Inc. in 2011 for $7.1 billion.
A probe of the 2010 explosion found managers urged miners to ignore basic safety measures, such as controlling coal dust and ensuring the mine had proper ventilation, as part of a push to increase production.
Blankenship is accused of making false statements about the company's safety practices prior to the explosion, and misleading investors, U.S. Attorney Booth Goodwin said yesterday in a statement.
If the former chief executive officer is convicted of the four charges, he faces a maximum penalty of 31 years in prison, Goodwin said. Blankenship is scheduled to make an initial court appearance Nov. 20 at the federal courthouse in Beckley, West Virginia, according to Goodwin's office.
West Virginia U.S. Senator Jay Rockefeller, a Democrat, said yesterday that Blankenship's indictment is another step toward acknowledging the loss suffered by the families of the workers killed in the explosion.
"Don Blankenship, and the mines he once operated, treated miners and their safety with callousness and open disregard," Rockefeller said in an e-mailed statement. "As he goes to trial, he will be treated far fairer and with more dignity than he ever treated the miners he employed."
'Silence Him'
William Taylor III, a Washington-based lawyer for Blankenship, said in a statement today that his client will be acquitted when the case comes to trial.
"Don Blankenship has been a tireless advocate for mine safety," Taylor said. "His outspoken criticism of powerful bureaucrats has earned this indictment. He will not yield to their effort to silence him."
Blankenship said in a 2013 blog posting, "If they put me behind bars," any conviction would be tied to politics, according to the Charleston Gazette in West Virginia.
"Under Don Blankenship's leadership, Massey Energy committed years of egregious violations of federal mine safety laws," David Uhlmann, a University of Michigan law professor and former head of the Justice Department's environmental crimes division, said in an e-mailed statement.
"If the Justice Department can prove that Blankenship knew about those violations and allowed them to occur under his watch, he deserves to be prosecuted to the full extent of the law," Uhlmann said.
Highest Ranking
Blankenship is the highest-ranking former Massey executive to face charges over the company's business practices and its handling of the Upper Big Branch mine.
David Hughart, another Massey executive, was convicted in 2013 of conspiring to violate mine safety laws in connection with the disaster. Hughart was sentenced to 3 1/2 years in prison for misleading mine inspectors.
Hughie Elbert Stover, the mine's former security chief, was convicted of lying to investigators about Massey's practice of warning miners when safety inspectors arrived at their facilities and then ordering the destruction of some documents. He got three years in prison.
As part of their investigation into Massey's operations, federal prosecutors found the coal company kept two sets of books in an attempt to dupe regulators, and threatened workers to keep them from reporting violations.
Massey operated its mines "in a profoundly risky manner," according to a 2011 report by former federal mine administrator J. Davitt McAteer, named by then-West Virginia Governor Joe Manchin to examine the blast. Manchin, a Democrat, is now a U.S. senator.
Root Cause
"While violations of particular safety standards led to the conditions that caused the explosion, the unlawful policies and practices implemented by" Massey officials were at the root cause of the Upper Big Branch disaster, officials of the U.S. Mine Safety and Health Administration concluded in their report.
Some of Blankenship's critics said the charges, coming more than four years after the blast, were long overdue.
"I'm not the least bit surprised that Don Blankenship finally got indicted over the Upper Big Branch disaster," said David Fawcett, a Pittsburgh attorney who has sued Massey over its business practices. "The man has an extensive record of engaging in questionable business practices over the years."
Alpha's Settlement
Bristol, Virginia-based Alpha, which created the world's third-largest coal producer by acquiring Massey, agreed in 2013 to pay more than $209 million to resolve a federal criminal investigation into the explosion.
It also paid $265 million to settle a Massachusetts pension fund's lawsuit accusing the company of misleading investors about its safety record.
Alpha still faces claims in Delaware Chancery Court from investors over Massey's business practices. The cases were put on hold during the criminal investigation.
The case is U.S. v. Blankenship, 14-cr-00244, U.S. District Court, Southern District of West Virginia (Charleston).
(An earlier version of this story corrected the name of the Gazette.)
Before it's here, it's on the Bloomberg Terminal.
LEARN MORE