Djokovic Gives Himself Perfect Marks After Wawrinka Win
Danielle Rossingh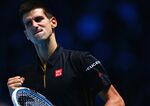 For two games, it looked like spectators at the ATP World Tour Finals were going to see their first truly competitive match. Then Novak Djokovic showed Stan Wawrinka why he's the best male tennis player in the world.
Wawrinka, the Australian Open champion, broke the Serb in the opening game and then held his serve. Djokovic then took 12 of the next 13 games to win his second group match 6-3, 6-0 at London's O2 arena. He'd dropped two games in his opening match against Marin Cilic, the winner of another major this season.
"Both matches 10 out of 10, it cannot get much better than this, dropping only five games in two matches," Djokovic said in a televised interview shortly after beating Wawrinka with a running forehand winner down the line.
After four days of round-robin play, all eight singles matches have been won in straight sets. Though no one has qualified for the semifinals, Djokovic, who leads his group, is virtually assured of his place in the last four.
Also yesterday, Czech Tomas Berdych defeated Cilic of Croatia in straight sets. There has been eight hours and 26 minutes of singles play, almost three hours less than John Isner's win over Nicolas Mahut at 2010 Wimbledon.
"It's so strange because this year everybody before the tournament was expecting some big matches because there were more surprises during the year, with me winning a Grand Slam, Cilic also," Wawrinka said in a news conference after the most lop-sided defeat of his ATP career. "This year is really a big surprise I think for everybody to see these matches go so quick."
Today, six-time champion Roger Federer of Switzerland, who leads the other group, faces Britain's Andy Murray while Canada's Milos Raonic plays U.S. Open finalist Kei Nishikori of Japan. The top two players in each group advance to the semifinals.
Comfort Zone
Outplayed by the hard-hitting Wawrinka in the first two games, Djokovic started mixing up the pace.
His aim had been to unsettle the Swiss, who had beaten him in five sets in the quarterfinals of the Australian Open.
"The main point was not to give him enough time, to get him out of his comfort zone," seven-time major champion Djokovic said. "He started to make a lot of unforced errors."
Djokovic "put me in a position that I was thinking a little bit too much," said Wawrinka, who made 29 unforced errors and struck only eight winners. Djokovic produced 13 winners and made 17 unforced errors.
"I'm not really clear what I'm going to do, because he's doing everything well and he's returning well," Wawrinka added.
Top Ranking
Djokovic will be guaranteed the season-ending No. 1 ranking if he wins his third group match against Berdych. He hasn't lost to anyone outside of the top 20 all season.
"Bottom line, it's a very mental game, and you feel the pressure at a tournament like this, where there is a lot at stake," said Djokovic, who extended his unbeaten run indoors to 29 matches.
Earlier in the day, Berdych eased past Cilic, 6-3, 6-1, taking advantage of another off-day for the Croatian.
"Last match here I played was just not my best, so I was just trying to refocus back again on my tennis, on my game," Berdych said in a court-side interview after his 1 hour, 15 minute victory.
Berdych hasn't won his opening match in five ATP Finals appearances, yet has always gone on to victory in his second match. His best result is a semifinals spot in 2011.
"I tried to go point-by-point," said the sixth-ranked Czech, who had lost to Cilic at Wimbledon and the U.S. Open.
Both men had a tough start in London, losing their opening rounds in less than an hour. Cilic got broken seven times in his loss to Djokovic while Berdych won only two games against Wawrinka.
Cilic Errors
Cilic, who won his first major at the U.S. Open in September a year after serving a doping ban for inadvertently taking a banned stimulant, is playing in his first ATP Finals. He's yet to win a set.
After Cilic lost his first match, his coach, 2001 Wimbledon champion Goran Ivanisevic, said he'd "missed the boat." Things didn't improve yesterday, as only half his first serves landed in and he made 30 unforced errors and only 11 winners. He told reporters afterwards he'd been struggling physically and was lacking in match practice in the past few weeks.
"Let's put it this way, with the way he played, he would never win a U.S. Open," Berdych said.
Before it's here, it's on the Bloomberg Terminal.
LEARN MORE