Quebec and Scotland Said No to Secession, but Catalonia Is Still Going to Try
Scotland and Quebec said no to secession. Now it's Catalonia's try
By and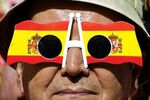 "Like Quebec, like Scotland, Catalonia also wants to decide its political future," the Spanish region's secessionist president, Artur Mas, said after about 1.9 million of his compatriots turned out to vote yes to independence in a nonbinding ballot on Nov. 9. Never mind that both Quebec and Scotland decided to stay in their respective unions with Canada and Britain when they were given the chance to leave. "I ask the people of the world, the governments and media, to help us to convince the Spanish government to sit down at the table to talk," Mas said from his perch in Barcelona. "We deserve to hold a normal legal and binding referendum to decide our political future as a nation."
The Spanish government in Madrid thinks otherwise. While British Prime Minister David Cameron and his Scottish predecessor, Gordon Brown, made a great show of courting Scotland's voters before their September referendum, the conservative government of Spanish Prime Minister Mariano Rajoy has gone on the attack. He appealed to Spain's Constitutional Court, which issued two rulings that invalidated the Catalan poll. After the vote, state prosecutor Eduardo Torres-Dulce ordered regional police to find out who was responsible for opening up the public buildings used for voting. "You can't ask the prime minister to negotiate over national sovereignty," Rajoy said at a Nov. 12 press conference in Madrid. "Independence is bad for the Catalans, and it's bad for the rest of Spain."
Separatist sentiment in Catalonia, a linguistically distinct region in northeastern Spain, has surged in the last four years, spurred by public dissatisfaction with high unemployment and cuts in public services. More than 2.3 million Catalans—37 percent of the electorate—took part in the vote, and 81 percent backed a split.
At the same time, the Spanish political establishment in Madrid faces its biggest crisis since the country returned to democracy 36 years ago following the death of the dictator Francisco Franco. Dozens of local officials and government contractors were arrested on corruption charges in late October, including senior members of Rajoy's People's Party. "I want to apologize to all Spaniards for having appointed to positions for which they were not worthy those who would seem to have abused them," Rajoy said in a public statement.
Disgust with the political status quo has voters in the rest of Spain turning to the anti-establishment Podemos Party, which was established less than a year ago. Podemos—or "Yes, We Can," a name lifted from Barack Obama's first U.S. presidential campaign—has taken the lead in national polls, pushing Rajoy's People's Party into third place behind the opposition Socialists.
The Spanish constitution makes secession a conundrum. Catalan independence would have to win in a national vote, not just a regional one. The People's Party "is split between people behind the scenes who know the way out is to cut a deal and those who say the hard-line political strategy is what works for us," says Jeff Miley, a lecturer at Cambridge University who specializes in Catalan nationalism.
Mas has written to Rajoy asking the premier to agree to an official Catalan referendum. In the absence of a reply, he says he will open negotiations with other Catalan parties about calling a regional election that would be a de facto vote on secession. Mas may ultimately find himself squeezed out by his rivals. Esquerra Republicana, a Catalan party now leading in opinion polls, has released its own road map for sovereignty, which will include taking control of taxation and law enforcement and setting out a time-table for independence.
Carme Forcadell, whose Catalan National Assembly led hundreds of thousands of protesters onto the streets of Barcelona in September, wants to run a single joint list of pro-secession candidates. "We have disobeyed the Spanish state, we challenged it," she says. "We unplugged from the Spanish state. We don't care what they say."
BOTTOM LINE -
The bottom line: Secession groups hope Catalonia's ad hoc independence vote will pave the way for the real thing.
Before it's here, it's on the Bloomberg Terminal.
LEARN MORE