If It's Good Enough for Big Oil …
Carbon pricing may be the fastest way to cut climate-changing emissions. And ExxonMobil, among others, is already practicing it. Will the politicians follow?
Mark Hertsgaard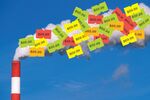 When hundreds of thousands of marchers thronged New York City in September demanding action against climate change, they probably didn't imagine they were affecting the "shadow" price of carbon set by their bête noire, ExxonMobil. Nor were Republicans likely aware they had performed the same feat when they seized control of the U.S. Senate on Nov. 4. After all, denial of climate change is a Republican litmus test, so the notion of paying to stop climate change is beyond heretical. What company has spent more to promote the denial of climate change than any other? ExxonMobil, with at least $29.9 million since 1997, according to ExxonSecrets, a research unit within Greenpeace USA. The corporation denies the allegation, citing the partisan nature of ExxonSecrets. But the oil and gas giant—and others in the energy industry—has been operating on the assumption that it's only a matter of time before governments around the world impose a price on carbon emissions. That assumption was borne out on Nov. 11 when the U.S. and China announced an historic climate agreement.
Pricing carbon would address what economist Sir Nicholas Stern in a 2006 report called "the greatest market failure in history." Greenhouse gas emissions cause profound damage—drought slashes crop yields; hurricanes flood subways; rising seas inundate property—but that damage is not reflected in the emissions' market price. Indeed, the market price is zero: The costs of climate impacts are shouldered by third parties or society as a whole.
Economists from right to left agree that taxing carbon is the most efficient way to cut emissions. A rising, predictable carbon price would unleash the power of the market against climate change, giving both producers and consumers an incentive to shift to lower-carbon energy choices.
ExxonMobil's approach to carbon pricing was revealed in a September report in the online magazine Yale Environment 360 by Mark Schapiro, author of the book Carbon Shock. Alan Jeffers, ExxonMobil's media officer, told Schapiro the company has been applying a proxy price to carbon since 2007. The price is different for different countries, and it goes up or down according to how likely ExxonMobil thinks a given country's government is to regulate carbon.
ExxonMobil's carbon price is invisible to consumers—it's used to help executives test potential long-term investments. The company projects that governments will impose a price on carbon that reaches $60 a ton in countries that are part of the Organisation for Economic Co-operation and Development by 2030 and $80 a ton by 2040; executives ask if a new refinery or pipeline will be profitable decades from now with that additional cost.
Analysts at ExxonMobil are "in the process of refining" the carbon price in the wake of the September climate march, Jeffers told Bloomberg Businessweek. "We look at all kinds of things that affect government policies," he says, "and that many people marching is clearly going to put pressure on government to do something." In 2009 the company raised its in-house U.S. carbon price when Congress weighed a bill to limit greenhouse gas emissions. Republicans' strengthened hand on Capitol Hill presumably will incline the in-house price downward, even as the emissions limits President Obama agreed to with Chinese President Xi Jinping push it up.
ExxonMobil is hardly the only big business that sees the carbon writing on the wall. At least four other oil companies—BP, Chevron, ConocoPhillips, and Royal Dutch Shell—also assign an internal price to carbon. So does American Electric Power, one of the largest and most coal-reliant utilities in the U.S. Joining them are scores of companies outside the energy sector, including Microsoft, Google, DuPont, Deutsche Bank, Delta Air Lines, Dow Chemical, and BMW. A complete list has been published by the Carbon Disclosure Project (CDP), a nonprofit in London that surveys companies on behalf of 767 investment banks and pension funds that control more than $92 trillion in assets, including Goldman Sachs, Wells Fargo, Bank of America, HSBC, Calpers, Credit Suisse, and Barclays.
"There is a global corporate consensus that carbon will be priced," the CDP reports. The consensus reflects an emerging reality: The World Bank reports that 22 percent of global emissions are already covered by some form of carbon pricing. California, the world's eighth-largest economy, has a de facto carbon price, thanks to its cap-and-trade law, which ratchets down the level of allowable emissions over time. The same is true of the European Union. China, the world's largest annual emitter, is establishing cap-and-trade systems in seven regions and pledges its national emissions will peak by 2030. The Obama administration, as part of calculating the risks and benefits of potential energy policies, assigns a $35-a-ton "social cost" to carbon emissions.
"It's just smart business," Jeffers says, explaining how a carbon price enables ExxonMobil to limit the vulnerability of its investments to future government policy changes. Natural gas's lower carbon content and thus lower carbon price than coal helped persuade ExxonMobil executives to spend $41 billion in 2009 to buy the largest natural gas producer in the U.S., XTO Energy. American Electric Power likewise credits its internal carbon price with encouraging "divestment of high-carbon generation" fuels such as coal; AEP projects its reliance on coal will decline from 60 percent today to 46 percent by 2026.
Microsoft, by contrast, prices carbon not as a defense against possible policy shifts but as a way to improve its profitability and public image. The profit and loss statement of each Microsoft division has a Carbon Neutral Fee line item, says Tamara DiCaprio, the company's senior director for environmental sustainability. For every ton of carbon a given division consumes, $5 to $7 is paid quarterly into a central carbon fund that in turn finances investments in low-carbon energy, energy efficiency, and what DiCaprio calls "high-quality carbon offsets" in poor countries. "Our data center guys are signing 20-year purchase agreements to buy electricity from wind farms in Texas and Illinois," she says.
Microsoft's carbon price is vital to achieving the company's goal of being carbon-neutral by 2020, DiCaprio says, but it wouldn't happen if it didn't also make business sense. "We get $3 back for every dollar we invest in carbon-reduction projects," she says. "It's sparked lots of innovation and gotten our [employees] excited that the company is doing this and they're part of it."
In a 2009 speech, ExxonMobil's chief executive officer, Rex Tillerson, said if governments do price carbon, they should impose a revenue-neutral carbon tax. Under such a policy, all carbon tax revenue would be refunded to the public—for example, through reduced payroll taxes—so higher energy prices wouldn't reduce personal incomes and gross domestic product or hurt the poor. This "absolutely" remains the company's preference today, Jeffers told Bloomberg Businessweek. A similar option is a "cap-and-dividend" system, whereby all revenue is returned to the public via an annual check (as Alaska does with its oil revenue). Representative Chris Van Hollen of Maryland, the ranking Democrat on the House Budget Committee, has sponsored legislation to this effect.
"Severe, pervasive, and irreversible impacts" await humanity if greenhouse gas emissions aren't dramatically reduced, the Intergovernmental Panel on Climate Change declared two days before the November elections. Congressional Republicans scoff at such warnings and for the moment seem positioned to stymie meaningful federal action against climate change. But the deal between the U.S. and China could be a game changer, neutralizing opponents' argument that American action is self-defeating without Chinese reciprocity. Meanwhile, if pricing carbon is good enough for ExxonMobil, Microsoft, and many of the world's most profitable companies, how long can climate-change deniers keep a straight face while blocking it for the nation as a whole?
Before it's here, it's on the Bloomberg Terminal.
LEARN MORE