Can this Man Secure the Republican Senate Majority?
Why Republicans picked a Senator from deep red Mississippi to run their reelection efforts in 2016.
By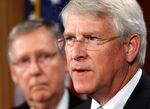 Roger Wicker, the junior senator from ruby-red Mississippi, has never faced a competitive reelection campaign. He hasn't made much of a name for himself in the Senate. And he's never had to make a hard appeal to independent voters.