Argentina Default Settlement Odds on Leftover Bonds Surge
Katia Porzecanski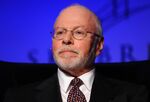 Creditors who own bonds left over from Argentina's default in 2001 are growing increasingly confident the government will negotiate once a clause that it says prevents a settlement expires next month.
The dollar-denominated notes rose as high as 120 cents on the dollar, according to prices compiled by Exotix USA Inc., which specializes in illiquid and distressed emerging-market debt. That's the highest since July 30, when Argentina defaulted on securities issued in debt restructurings in 2005 and 2010. The latest non-payment was triggered after the nation refused to comply with a U.S. court order to settle with a group of creditors who rejected the swap and sued for full repayment.
Argentina has said it can't negotiate with the holdouts led by billionaire Paul Singer until the provision in its restructured bonds, which prohibits the nation from extending better terms to creditors who refused earlier offers, expires Dec. 31. The court's decision last week to include other holders of defaulted bonds from 2001 in any potential talks has also boosted investor optimism over a deal as Argentina repeated Nov. 7 that a solution should include all bondholders.
"The expectation is building," Phillip Blackwood, a money manager at EM Quest Capital LLP who owns defaulted bonds from 2001, said by telephone from London. "There's talk of negotiations starting in the first quarter, and it doesn't make sense to do anything other than an all-encompassing solution."
RUFO Clause
Jesica Rey, a spokeswoman for the Economy Ministry, didn't return messages seeking comment on potential talks.
After Argentina halted payments on $95 billion of bonds in 2001, holders of about 92 percent of the debt agreed to take new securities at a loss of about 70 percent.
Some individual investors and hedge funds, including Singer's NML Capital Ltd., sued instead for full payment.
Argentine officials have said breaking the so-called RUFO clause in the restructured bonds could trigger as much as $120 billion in additional claims.
On Nov. 3, U.S. District Judge Thomas Griesa gave the special master he appointed to mediate talks between Argentina and creditors new authority to hold negotiations over "some or all" suits regarding the defaulted bonds pending in court.
The decision contrasted with his ruling in June, when he declined to consider five additional cases filed by holders of unpaid debt seeking a decision similar to the one granted to NML under the so-called equal-treatment provision.
Additional Claims
Twenty-five lawsuits have been filed since June, when Griesa's orders came into effect, and they are tied to $4.7 billion in claims, Carmine Boccuzzi, a lawyer for Argentina, said in a Nov. 6 letter to Griesa.
While saying in a Nov. 7 statement that the escalation of legal claims shows the "disastrous effects" of the judge's decision, the Economy Ministry said that all holdouts should be included in any eventual solution.
The judge's recent ruling "is not a change of heart -- it just recognizes that most bondholders who have sued in New York federal court should be entitled to equal treatment," Michael Spencer, an attorney at Milberg LLP, who represents a group of individuals holding the defaulted debt, said in an e-mailed statement.
Anthony Constantini, an attorney at Duane Morris LLP, said about 100 of his clients are suing to collect $180 million in principal and post-judgment interest on defaulted bonds under the equal-treatment provision. Argentina has sent mixed signals to creditors about its willingness to negotiate next year, he said.
'Very Puzzling'
Boccuzzi told the judge that "there can be no equitable basis for seeking to compel the Republic -- whose reserves are approximately $28 billion and must be used for critical macroeconomic purposes -- to do the impossible by paying in full its holdout debt."
Constantini said the letter caught him by "surprise."
"Now that people are saying we're all happy to discuss these items, they seem to have reversed their thinking," he said by telephone. "It was really very puzzling."
On Oct. 8, NML's attorney told Griesa that investors in 102 lawsuits plan to ask him to extend his order to their cases as well. Many of those so-called me-too investors already won judgments on their defaulted bonds -- including some owned by NML excluded from their equal-treatment lawsuit. The letter didn't say what the claims in the cases would total.
Last month, Boston-based money manager Grantham Mayo Van Otterloo & Co., which was included in NML's list of cases, sued for repayment on about $100 million, and billionaire Ken Dart's EM Ltd. filed a complaint to collect on $835 million.
The extra yield investors demand to hold Argentine debt over U.S. Treasuries narrowed 0.06 percentage point to 6.52 percentage points at 2:20 p.m. in New York, according to JPMorgan Chase & Co. data. That's the narrowest spread since July 31.
"Investors have begun to hope that a deal with all holdouts can finally be struck," Rohit Gadkar, an emerging-market money manager at Trea Capital Partners SV in Barcelona, which owns defaulted debt from 2001, said in an e-mail.
Before it's here, it's on the Bloomberg Terminal.
LEARN MORE