Ace Hotels Grows Pairing Trendy Shops With Drum Circles
Nadja Brandt and Oshrat Carmiel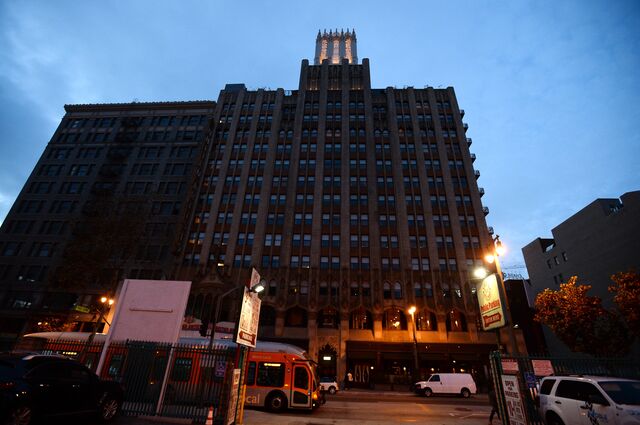 At the Ace Hotel in downtown Los Angeles, the line for a 1920s movie palace snakes past a gift shop selling guitar picks and skateboards. Guests at the Manhattan location crowd around a communal table in the lobby as a Velvet Underground tune plays in the background.
Ace Hotel Group is seeking to stand out in the crowded market of boutique hotels by offering guests different experiences at each of its seven properties. Its Palm Springs, California, outpost hosts full-moon parties and drum circles, and the Ace in Portland, Oregon, rents bicycles custom-made by local builder Jordan Hufnagel that retail for $4,000 and up.
"They've created these ecosystems that are very unique," said David Whelan, 44, a consultant for startups who's visited Ace hotels in New York, Los Angeles and Palm Springs. "When you walk into a Courtyard or Hilton, you know it by looking at all the similarities. When you walk into the Ace, it's the experience that creates the brand."
After debuting its Los Angeles property in January, the chain is opening next in Pittsburgh, then, perhaps, Detroit, said Brad Wilson, president of the Portland-based company. It plans to open one to two hotels a year.
The company's interested in a second New York location, and is looking at cities overseas such as Tokyo and Seoul, Wilson said. Where it won't go: already-trendy neighborhoods such as Miami Beach.
"There would be 30 people to do a hotel with us in South Beach, but we won't do that," Wilson said in a telephone interview. "We don't chase money, but we chase projects, and then we figure out a way to make it happen."
Gentrifying Areas
To increase its chances of success in less-established areas, Ace seeks retailers and restaurateurs it's already worked with to help it gentrify the neighborhoods. One example is Tanner Goods, a leather store near the Portland Ace that opened a location walking distance from the downtown Los Angeles hotel. The New York property features the Breslin restaurant, headed by award-winning chef April Bloomfield, who also runs the Spotted Pig in the city.
"When we go into these cities, we talk to all of our friends to let them know," said Kelly Sawdon, Ace's chief brand officer. "In L.A., we were fortunate that there were vacant retail spaces. It benefits them, and it benefits our guests to help activate the streetscape."
At the Ace in New York, rooms start at $339 on the weekends in November. In Los Angeles, nightly weekend rates start at $244. and in Palm Springs, at $173.
Condo Project
Since the Ace opened its doors in the NoMad neighborhood in 2009, other luxury developments have sprung up nearby. Toll Brothers Inc., the luxury-home builder, and Equity Residential, the largest publicly traded U.S. apartment owner, are jointly building a 40-story condominium and rental tower on 28th Street and Park Avenue South.
Ace Hotel Group, started in 1999, is owned by Sawdon, Wilson and three other partners. Wilson said it is profitable, without disclosing specific revenue and earnings figures.
Its strategy has attracted high-profile investors. Barry Sternlicht's Starwood Capital Group LLC owns part of the location in London's gentrifying Shoreditch neighborhood. Dune Capital Management owns a stake in Manhattan's Ace hotel, on 29th Street between 5th Avenue and Broadway, an area dominated by discount stores peddling cheap jewelry and shops selling hookahs and cigarettes.
'Gut Redevelopment'
Greenfield Partners LLC, a Westport, Connecticut-based private-equity firm, is the majority owner of the downtown Los Angeles location, home to a French bistro-style restaurant and the newly renovated United Artists movie theater, built in 1927, and surrounded by gritty parking lots and aging office buildings. Greenfield bought the property for $11 million in 2011, then completed a "gut redevelopment" to prepare it for Ace, said Eugene Gorab, the landlord's founder, president and chief executive officer.
"They integrate themselves culturally better than anybody," he said of Ace's management. "They create these environments and partnerships with locals. The diversity of clients they attract that way is unique in this segment."
Greenfield, which has also invested in hotels including Manhattan's Standard High Line NYC, is seeking a buyer for the Los Angeles location, Gorab said. The firm is concerned about competition from a rising number of lodging properties in the neighborhood, said Gorab, a founding partner of Starwood Capital with Sternlicht.
Supply Worry
Gorab said he hopes to complete a sale of the Los Angeles hotel by early next year, and is interested in investing in future Ace outlets.
"We believe in Ace, but we're not the kind of investors that hold out for the last dollar," Gorab said. "Looking at downtown L.A., I am a little bit worried about supply. I just worry about the sheer number of rooms being added there."
Starting in the early 1950s, the lodging industry began to standardize, with Marriott International Inc. and Hilton Worldwide Holdings Inc. hotels providing consistency, according to the Boutique & Lifestyle Lodging Association.
In 1984, Ian Schrager and Steve Rubell pioneered the boutique-hotel concept in the U.S. with their Morgans New York. Large hotel operators added boutique properties to their chains in the late '90s, when Starwood Hotels & Resorts Worldwide Inc. began its W brand. Last month, Hilton announced a new lifestyle brand, Canopy, promising that no two will be the same.
Pittsburgh Challenge
Ace has run into difficulties raising money for properties in some of the off-the-beaten-path locations it prefers. The company and a development partner spent almost three years putting together tax credits, local grants and other development funds for the Pittsburgh location that's opening next year, Wilson said. A Detroit hotel may be even more challenging, should the company pursue one. The city filed for bankruptcy last year after a decades-long population exodus.
"Boutique hotels can be difficult for lenders," said David Loeb, an analyst at Milwaukee-based Robert W. Baird & Co. "They usually prefer well-known brands, higher-end, select-service, in prime locations in major cities." Select-service hotels lack amenities such as restaurants.
As Ace seeks to open more hotels, the company also is adding products and programs at Atelier Ace, which has more than 50 employees. The agency has clothing and footwear lines, manages movie theaters and music venues, and runs weekend printmaking and letterpress workshops.
Merchandise, Food
About half of Ace's earnings will come from hotel rooms, with the rest from merchandise, food and beverage sales, Wilson said in a Bloomberg Television interview last month.
Diversification was part of the vision of co-founder Alex Calderwood, who was found dead in London last year of undisclosed causes. Calderwood, who started out as a party promoter, ran a vintage-clothing business in Seattle after high school and co-founded the Rudy's barbershop chain. The Ace in New York has a Rudy's location next door.
"We take the entrepreneurial point of view," Sawdon said. "We see hotels as opportunities to do other things we love, and work with other groups and organizations we love. Hospitality is our primary business, but hotels are essentially an umbrella to bring in other interests."
The diverse collection of business lines, from theaters to apparel, may pose problems as the chain expands, Loeb said.
'Hard Enough'
"Whatever you do, you better be good to at it," he said. "Every one of these things could become a mess-up. There's nothing inherently wrong with having multiple products, but running hotels successfully is already hard enough."
Hotel guest Whelan, who has bought an Ace leather passport holder, T-shirts and other knickknacks, said he's "made it a mission" to stay at the company's Manhattan location whenever he travels to New York from his home in Los Angeles.
"It's got this amazing lobby," Whelan said. "It's a coffee-and-breakfast bar and, as the day goes on, it becomes this informal co-working environment with so many entrepreneurs and digital media folks and startup people. It's an experience more than just a hotel."
Before it's here, it's on the Bloomberg Terminal.
LEARN MORE