pursuits
The Longshot Dream of a Cable-TV 'Mini Bundle' Devoted to Sports
By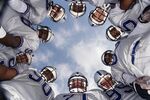 Television executives have concluded that ever-expanding channel lineups are incompatible with cable-TV subscriber growth. A panel discussion in New York last week hosted by Sports Business Journal neatly captured the new consensus around what Fox Networks President Randy Freer termed the "fraying bundle."
 
It's a change of tune for the industry. For years, the makers and sellers of cable-TV bundles have scoffed at the notion of a subscriber peak—and some still do. But the numbers show a trend line that looked suspiciously peak-like back in 2011:

This is what the descent looks like over the past year for the top four providers:

For now, the cable companies have been able to replace the lost revenue by signing up more customers for Internet service and raising prices on their remaining video subscribers. No one seems to know exactly what comes next, but one candidate is the miniature bundle: fewer channels at a lower price. "Mini-packs are key to bringing in a viewer that never was going to buy cable," Turner Broadcasting President David Levy said at the Sports Business Journal panel. "We're making sure that we are in those mini-packs. Sports certainly helps drive that."
The conventional wisdom is that sports are the glue holding together more than 100 channels in the traditional cable-TV big bundle. A recent Harris Interactive Poll found 43 percent of U.S. adults naming live sports as the reason they won't cancel cable. The business model now is to use those consumers to make sure carriers keep sports in their bundles. For programmers, this means billions in extra revenue from the non-sports fans carried along for the ride.
But what if it worked the other way round? Sports bundles for sports fans and everything-else bundles for everybody else. What would a sports mini-bundle look like? And what might it cost?
Let's say that the average U.S. sports fan would be satisfied with the four major networks (ABC, CBS, Fox, and NBC) plus these 13 sports-oriented cable channels: ESPN, ESPN2, Fox Sports 1, TNT, TBS, NFL Network, MLB Network, NBA TV, NBCSN, NHL Network, Big Ten Network, Pac-12 Network, and the SEC Network. In the current media rights landscape, that would supply most national broadcasts of the four major U.S. sports leagues, plus plenty of soccer and college sports.
According to data from SNL Kagan, those 13 channels charge cable carriers a combined $12.91 per subscriber per month in affiliate fees. The fees range from $6.04 for ESPN to 25¢ or less for MLB Network and the Pac-12 Network. Throw in the four networks at roughly $2 per month in retransmission fees, and you have a bundle that supplies $20.91 in monthly fees. Given the current cable industry average of $88.20 in monthly revenue per video subscriber, $20.91 per month would seem an attractive option for the 43 percent of consumers who are keeping their cable only for sports.
If 43 percent of the 99.4 million cable-TV subscribers in the U.S. bought such a package, that would be 42.7 million subscribers—a big drop in distribution for the sports networks, most of which are in more than 80 million homes. To make up for the lost revenue, programmers would need to at least double the per subscriber cost, and that doesn't account for labor and other expenses for the carriers. To keep the current margins, the dream cable sports bundle would probably have to cost closer to $50 per month, a much less attractive proposition.
And then there's the problem of advertising revenue. Decreased distribution doesn't necessarily mean decreased viewership, but programmers would probably lose at least some of the premium they now get from advertisers for sports content. According to data from Kantar Media, a 30-second spot during a prime time NBA game broadcast nationwide costs three times as much per viewer as the same slot on a nonsports program. Even with that premium, many programmers are not recouping the money they pay to secure sports media rights.
A report titled "Why Sports Persevere" from media analysts Magna Global earlier this year concluded that most league rights don't pay for themselves in advertising:

Programmers put up with these losses, in part, because the reliably large audiences for sports allow them to promote their networks and other shows. (Hey, look, it's the star of our new sitcom sitting in the crowd.) But the breaking point for escalating rights fees may not be far off, especially if the network distribution numbers drop. While the honchos at the Sports Business Journal panel expressed confidence that the fraying bundle won't cost them, it's hard to see how somebody—leagues, programmers, or carriers—doesn't lose out on mini-bundles, unless they can persuade customers to pay fat bundle prices.
That's why details are in much shorter supply than confidence.
Before it's here, it's on the Bloomberg Terminal.
LEARN MORE