A $4.3 Billion Fine for Wall Street Over Currency Manipulation
By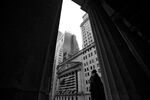 [Updates to include settlement with the Office of the Comptroller of the Currency.]
Five banks settled some charges stemming from the currency-rate-manipulation investigations under way for the past year or so and were ordered to pay $4.3 billion among them to regulators in the U.S. and Europe. A question looms whether criminal prosecutions may still be coming, including charges against any individuals involved.
UBS will pay $800 million, Citigroup $1.02 billion, JPMorgan Chase $6 million less than that, Royal Bank of Scotland $634 million, and HSBC $618 million to the Commodity Futures Trading Commission, Office of the Comptroller of the Currency, the Financial Conduct Authority in the U.K., and the Swiss Financial Market Supervisory Authority. The companies received a discount on the penalties by agreeing to settle all at once. The Justice Department and Britain's Serious Fraud Office are still investigating the five banks and a few others, which could still lead to criminal cases. If recent history is any guide, Wall Street's critics are likely to be disappointed by the outcome.
Because the banks settled the cases without going to trial, disclosure about the conduct at the heart of the charges will be minimal. But some documents were disclosed, offering details on how some of the market manipulations were undertaken. The currency market is massive, more than $5 trillion a day, dwarfing most other markets. According to documents released by the Financial Conduct Authority, traders at different banks would collect orders to trade currencies at various "fix" rates—benchmarks for the currency that are set at certain points during the day. Referring to themselves in different goofy superhero terms (in recorded electronic chats, no less) such as "the players," "A team," "1 team," and the "3 musketeers," the traders would share information about the orders they were getting and then work together to guide the "fix" rate in a way advantageous to them. The clients placing the orders were oblivious. "How can I make free money with no fcking heads up," was one trader's choice reference to the situation. "I'd prefer we join forces," said a second. And "Let's join forces."
It's unclear when the investigations by the DOJ and others may conclude.
Before it's here, it's on the Bloomberg Terminal.
LEARN MORE