American Carbon Market Seen as Winner With China Accord
Mathew Carr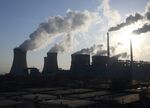 The U.S. carbon market that faded over the past decade as European Union trading took off is getting a fresh look after President Barack Obama signed a deal with China to curb emissions.
The climate deal between the two nations, which together spew out 42 percent of the world's emissions, may be the first step toward a global carbon market, said Bernadett Papp, an analyst at Vertis Environmental Finance Ltd. in Budapest. The accord "weakens the argument" of European nations that say countries outside the region aren't acting on climate change, said Mark Lewis, an analyst at Kepler Cheuvreux SA in Paris.
While the EU runs the world's largest program to cap emissions and allows the trading of greenhouse-gas permits, Obama's bid in 2010 for a similar program failed and California has evolved into a smaller market than originally anticipated. EU carbon permits slipped today from their highest price in eight months on London's ICE Futures Europe exchange after the agreement was announced yesterday.
"It is a big symbolic breakthrough, and to that extent will definitely help give renewed momentum to the global negotiations and hence to the idea of linked markets," Lewis said in an e-mailed response to questions.
Stagnant Production
EU regulators are struggling to address an oversupply caused by generous emission limits and subdued demand because of stagnant economic production that caused prices to fall to a five-year low in April last year. Prices in the United Nations market last month dropped to a record as demand from EU buyers is set to reach a limit set by lawmakers.
Federal cap-and-trade legislation backed by Obama stalled in the U.S. Senate in 2010. There are markets in California, which started trading in 2013, and the northeastern U.S., which was first proposed in 2003.
"A China-U.S. climate deal that involves the former committing to capping emissions is a breakthrough," Daniel Rossetto, the managing director of Climate Mundial Ltd. in London, which provides advice on emissions trading, said by e-mail. "Opponents to cap and trade in the U.S. have always been safe in quoting inaction by China as a reason for blocking cap and trade. If China follows through on today's commitment, that precondition no longer holds."
Carbon Pricing
It's not clear how China and the U.S. will legislate on the deal, nor how important carbon pricing will be, according to Maria van der Hoeven, the executive director of the International Energy Agency.
"The proof of the pudding is always in the eating," she said in an interview in London yesterday.
Ultimately the U.S. will want to enlarge its carbon market and link it to China's during the next 15 years, following in the EU's footsteps, said Tim Yeo, chairman of the U.K. Parliament's Energy & Climate Change Committee. He traveled to the Asian nation for two weeks through Nov. 1.
"They'll be worried they'll be left out of the race," Yeo said today by phone.
It's not probable that nations will cut emissions fast enough to keep temperatures from rising more than 2 degrees Celsius (3.6 Fahrenheit), the internationally agreed goal to avoid the most severe and widespread implications of climate change, according to the IEA.
New Policies
China's energy emissions need to be 6.3 billion tons in 2030, compared with 8.2 billion in 2012, the agency said in its annual World Energy Outlook report. Global emissions need to be 25.4 billion tons in 2030 compared with 36.3 billion, assuming countries enact some new policies to cut emissions.
The agreement won't necessarily drive EU carbon permits higher after they gained 37 percent this year and links between markets may not happen until 2030 or later, Papp said.
December EU allowances, the market benchmark, settled down 0.9 percent at 6.79 euros ($8.47) a metric ton on ICE in London today after earlier reaching 6.86 euros a ton, the highest level since March. Credits traded as part of California's system gained 2 cents to $12.18 a ton yesterday, the highest since February, data compiled by the Chicago-based CME Group Inc. show.
California's air regulators signed an agreement with the Chinese city of Shenzhen last year to share information on carbon markets and collaborate on pollution-related research.
An accord between the U.S. and China may be "the most important development in international climate negotiations in more than a decade, perhaps two decades," Robert Stavins, the director of the Harvard Environmental Economics Program, said by e-mail. "We're finally moving beyond the foundation of the Kyoto Protocol, which currently accounts for 14 percent of global greenhouse gas emissions, to a truly meaningful foundation."
Before it's here, it's on the Bloomberg Terminal.
LEARN MORE