Turkey's Biggest Dam Project Victim of Faltering Peace
Selcan Hacaoglu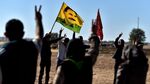 Construction work on two of Turkey's biggest dam projects has ground to a halt, as the country pays a price for simmering tensions between Kurdish rebels and the government.
Since August, Kurdish rebels have set ablaze cement trucks, bombed power lines and kidnapped workers, leading construction companies to suspend work on the $3 billion Ilisu Dam and hydroelectric plant and a $3.5 billion irrigation project near the town of Silvan, according to contractors working on the projects.
The violence erupted in response to faltering peace talks between Kurds and the Turkish government to end a 30-year struggle for autonomy, escalating further in October over Turkey's perceived failure to intervene to help Syrian Kurds in Kobani against Islamic State. The halted work on the dams -- part of a $35.5 billion development project -- has led to hundreds of workers losing their jobs.
The two largest firms and sub-contractors involved in the construction of the Ilisu dam, Cengiz Insaat and Nurol Insaat, have laid off 1,500 workers, one of the officials involved in the project said. Mardin Cimento has stopped cement deliveries to the project since August, according to another official. Nurol and Mardin Cimento declined to comment when contacted by phone while two calls to Cengiz Holding's press department during normal office hours went unanswered.
No Dam Peace
"Many investors in the southeast would be content to sell their projects and exit the region but they're stuck," Jonathan Friedman, a London-based analyst at risk management company Stroz Friedberg, said by e-mail. "If they are domestic firms, they will fear backlash from Ankara. If they are foreign firms, there are no local buyers who have the capital to take on such large projects at the moment."
Since coming to power in 2002, Turkey's governing AK Party has reinvigorated development projects in the largely Kurdish southeast that began in the 1970s. The Southeast Anatolia Project or GAP includes 22 dams on the Tigris and Euphrates rivers and is expected to generate about 12.5 percent of Turkey's current electricity needs upon completion.
Peace talks with the Kurdistan Workers Party, or PKK, which Turkey, the European Union and the U.S. list as a terrorist organization, began in 2011.
Atomic Bombs
While many Kurds have welcomed the investment, others are suspicious that the project will yoke the region to the Turkish economy without a political settlement in place to ensure Kurdish self-governance. The dam construction has coincided with the expansion of Turkish military outposts in the region, further inflaming tensions.
A few days before the attacks on the dams in August, imprisoned Kurdish rebel chief Abdullah Ocalan compared the projects to "atomic bombs dropped on Hiroshima and Nagasaki," and said they must be stopped, according to Ocalan's lawyer Mazlum Dinc.
Faysal Sariyildiz, a Kurdish lawmaker, said by phone that Kurds are not against development work in the region but want "a more sensitive approach."
The Turkish government accused the PKK of inciting the violence, and said it will increase the powers of paramilitary and police forces in the region. The country's pro-Kurdish People's Democracy Party yesterday reiterated its commitment to the peace process, which was welcomed by Turkish Prime Minister Ahmet Davutoglu as a "positive step."
'Security Problem'
"While it was possible to record serious progress on several issues, a security problem has risen," Davutoglu said late yesterday in Ankara.
Turkey's $820 billion dollar economy has grown about 5 percent a year in the AK Party era. While the largely Kurdish southeast has seen gains too, unemployment in some provinces in the region hovers at more than double the national average of 9.8 percent.
In addition to layoffs at Cengiz Insaat and Nurol Insaat, another firm, Yersu, fired most of its staff. It is struggling to make payments for leased equipment. "We can't stand more than two months," Adem Esen, a partner at Yersu, said in Ankara on Nov. 10.
"No doubt the suspension of projects is harming companies involved," Ilci Holding AS, a project undertaker at Silvan Dam, said Nov. 11. "More importantly, it is delaying the Silvan irrigation project which is expected to lead to agriculture development that could generate an economic value of $460 million and create jobs for 320,000 people."
Yet to Benefit
It is not clear for how long the delay on the construction will last. "The projects are a matter of prestige for the government and the delay will increase the cost," Tugba Evrim Maden, a hydro-politics researcher at the Ankara-based Center for Middle Eastern Strategic Studies, said in a Nov. 7 interview.
Although the GAP project has been under way for almost 40 years, people of the impoverished southeast have yet to benefit from it, according to Burc Baysal, head of the Industrialists and Businessmen Association in Diyarbakir, the largest city in the southeast.
"About 80 percent of GAP may have been completed in terms of energy supplies but only 12 percent of the irrigation canals are completed," Baysal said by phone Nov. 10. "What is really needed is irrigation to improve agriculture in arid lands and people's lives."
Before it's here, it's on the Bloomberg Terminal.
LEARN MORE