The Doctor Is Out, the Senate Is In for Ebola Hearing
The U.S. Ebola scare may be over, but congressional hearings must go on.
By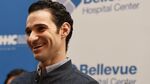 The only known Ebola patient in the U.S. got a clean bill of health this week—but the show will go on in Washington, where the Senate Appropriations Committee is set to hold a hearing Wednesday on the government's response to the issue.
The White House has asked Congress for $6.18 billion to fight the disease internationally as well as domestically, $4.64 billion of that for immediate needs and $1.54 billion for contingencies.
Health and Human Services Secretary Sylvia Mathews Burwell and Homeland Security Secretary Jeh Johnson are scheduled to testify at the 2 p.m. ET hearing, along with Centers for Disease Control and Prevention director Thomas Frieden; Anthony Fauci of the National Institutes of Health; and other administration officials.
Not on the agenda: the White House's Ebola czar, Ron Klain, though he is doing TV interviews.
After Craig Spencer, a doctor who had contracted Ebola treating patients in West Africa, was released Tuesday from a New York hospital, the U.S. became free of any known cases. Kaci Hickox, the Maine nurse who faced and defied quarantines while remaining healthy, completed a three-week monitoring period on Monday and says she is still frustrated about the way her case was handled.