politics
Tea Party Pours Support for Cassidy
The Tea Party embraces the more conservative candidate of the two left standing.
Annie Linskey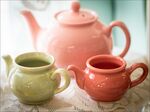 Republicans in Louisiana officially closed ranks today as the Tea Party Express put its stamp of approval on Bill Cassidy's bid to topple Democratic Senator Mary Landrieu, saying in an endorsement email that he's "the conservative choice for a new generation." 

"Bill Cassidy will be an independent, conservative voice for the people of Louisiana," said the group's executive director Taylor Budowich. 

Cassidy is the group's second choice—it initially backed the more conservative option: Rob Maness. In the earlier endorsement, Tea Party Express called Maness a "fighter" and predicted he would "pave his own trail" in Washington.  "Rob puts duty to country above all else," Budowich gushed in the previous (and undated) endorsement note. "It's no wonder why Tea Party leaders around the state are lining up behind Rob: He represents the people." Maness also earned early love from the Tea Party Patriots, the Senate Conservatives Fund and former Alaska Governor Sarah Palin. Louisiana voters weren't convinced: Maness only earned nearly 14 percent of the vote in an eight-way race on Nov. 4. 
Last week after losing, Maness and his wife had a "double date" with Cassidy and his wife in New Orleans. The couples discussed their "shared love for our country and Louisiana" and by the end of the night Maness was slapping a Cassidy bumper sticker on his truck, according to an account from Maness's campaign. Since then Senator Rand Paul of Kentucky and a host of local Louisiana Tea Party groups have thrown their support to him. 

Democrats haven't rallied to back Landrieu. The Democratic Senatorial Campaign Committee pulled it's ad buy leaving Landrieu's campaign twisting in the Bayou breeze while Cassidy and his supporters run 95 percent of the TV spots running in the state. 
Before it's here, it's on the Bloomberg Terminal.
LEARN MORE