Sainsbury Sees Lower Second-Half Profitability on Price Cuts
Tom Beardsworth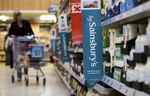 J Sainsbury Plc forecast falling second-half profitability as the U.K.'s third-largest supermarket company cuts prices and improves the quality of its food to combat mounting competition from discounters.
Price reductions will amount to 150 million pounds ($239 million), London-based Sainsbury said today in a statement, also unveiling plans to improve the quality of 3,000 own-brand items. The investment will be accompanied by a probable dividend cut, reduced capital spending and 500 million pounds of cost cuts over the next three years, the company said.
Sainsbury today said it anticipates "years" of negative same-store sales growth for the industry as more shoppers seek out convenience and better prices. The company will increase its non-food offering and team up with concession partners in some supermarkets, it said today, as discounters grab a larger share of shopper spending and market leader Tesco Plc's new management consider measures to revive sales.
"The establishment of a war-chest to fund price investment might help mitigate some advances by the German discounters," said Bryan Roberts, an analyst at Kantar Retail in London. "Concerns remain that Sainsbury's will be first in the firing line when the sleeping giant Tesco reawakens."
Sainsbury fell 4.5 percent to 257 pence at 9:29 a.m. in London, extending this year's decline to 30 percent.
Property Charge
"We don't think Sainsbury is being very bold on prices," Citigroup Inc. analyst Pradeep Pratti said in a note, particularly in comparison with Wm Morrison Supermarkets Plc, which earlier this year announced 1 billion pounds of discounts over three years.
Prices will be cut in "areas where our customers tell us it matters most," Chief Executive Officer Mike Coupe said in the statement. "Our prices have never been sharper," he said on a conference call with reporters.
Coupe, who succeeded Justin King as CEO in July, said the supermarket industry is facing "a once-in-a-generation combination of cyclical and structural change."
Customers are shopping more frequently, and increasingly using online, convenience and discount channels, he said.
In addition to cutting prices and investing in product quality, Sainsbury will reallocate space to non-food items and partner with other retailers to open concessions in about a quarter of the grocer's stores over the next five years. Sainsbury last month announced that it would open Jessops camera outlets within its supermarkets.
Capital Spending
The retailer plans to slash capital spending, following in the footsteps of Tesco and Morrison as grocers abandon a space race that defined the industry for two decades. From 888 million pounds last year, expenditure will reduce to between 500 million pounds and 550 million pounds per annum, or about 2 percent of sales, over the next three years.
"Whilst we applaud Sainsbury's greater capital discipline, the focus on debt reduction and strengthening the group's balance sheet, we struggle to forecast future years with confidence," Darren Shirley, an analyst at Shore Capital in Liverpool, England, said in a note.
The grocer unexpectedly held its first-half dividend at 5 pence a share, though said it will probably cut the full-year distribution based on an anticipated drop in profitability.
First-half pretax profit fell 6.3 percent to 375 million pounds on a so-called underlying basis, beating the 351 million-pound median estimate of analysts compiled by Bloomberg.
The underlying results excluded a charge of 628 million pounds following a review of its property portfolio, leading to a reported pretax loss of 290 million pounds.
Before it's here, it's on the Bloomberg Terminal.
LEARN MORE