Obama's Secret Weapon: People Hate, Hate, Hate Their Internet Provider
by
If U.S. regulators follow the Internet proposal President Obama made on Monday, service providers would be classified as utilities. Broadband companies, Republicans and other opponents say the plan would harm "competition and innovation" in the industry and risks turning the Web into something akin to telephone landlines or gas.
But wait — would that really be such a bad thing? Americans don't particularly like their power or water bills, but they actually hate their Internet service, customer satisfaction data show. Broadband and wireless operators rank below industry averages for utility companies and fixed-line phone service, according to research from the American Customer Satisfaction Index, which surveys about 70,000 people across the country each year.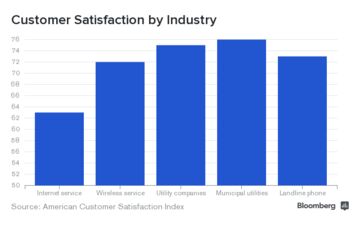 Whatever Americans think of these companies, they won't decide the outcome of the net neutrality debate. As Obama wrote in a statement, "The FCC is an independent agency, and ultimately this decision is theirs alone." But if this is a battle for Americans' hearts and minds — and it is — Internet service providers may not find many consumer advocates. And that could put pressure on the Federal Communications Commission to act.
When companies feud over who should pay for network infrastructure, consumers lose. Websites that pay up can be accessed more quickly than those that don't. Netflix subscribers experienced that firsthand in the past year when the streaming-video company refused to pay broadband providers to deliver its content directly to their networks.
With the president's proposal to bar "fast lanes" and "slow lanes" on the Internet, broadband companies will have a tough time making the case to consumers that everything is going great. For one thing, there's the customer satisfaction data; Internet service providers were rated a 63 this year, far behind utilities at 75 or landlines at 73. A phone recording from a frustrated customer trying to cancel Comcast went viral this summer as people swapped horror stories about dealing with cable companies.
Then there's the rather embarrassing ranking of the U.S. among countries with the fastest Internet. It places 17th, one spot behind Russia, according to data from Akamai Technologies. And the U.S. is where much of the Internet was conceived.
Net neutrality is a complicated issue, and nobody really knows whether we'd be better off if paid direct-connection deals were regulated out of existence. If tight regulations prevent telecoms from experimenting with ways to make money, they might pull back on network upgrades or abandon the business altogether. Comcast describes Obama's plan as an "intrusive regulatory regime designed for a different era," and Verizon Communications' similar statement calls it "1930s-era utility regulation" that would "threaten great harm to an open Internet, competition and innovation."
Netflix and Google are on the other side of the debate. They would benefit from not having to pony up for the fast-lane access they have now. "Everybody is just trying to avoid paying anything," says Dan Rayburn, an analyst at Frost & Sullivan.
The American public is more likely to side with the tech darlings. Comcast's satisfaction rating among broadband customers is 57, and Verizon's is 71, according to the American Customer Satisfaction Index. Netflix has a 79, and Google has an 83.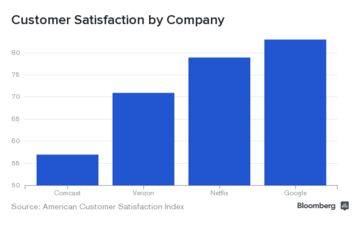 It's not just Internet providers that oppose Obama's version of net-neutrality regulations. "'Net Neutrality' is Obamacare for the Internet; the Internet should not operate at the speed of government," Senator Ted Cruz wrote on Twitter.
The health insurance industry has a customer satisfaction rating of 73. That's 10 points higher than the broadband companies.
Before it's here, it's on the Bloomberg Terminal.
LEARN MORE