How Republican Senators Will Attack Obama's Legacy
Kathleen Miller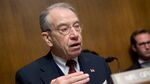 The Senate Judiciary Committee will get a jolt when Republican Charles Grassley becomes chairman and pursues investigations that could tarnish President Barack Obama's legacy.
Even while in the minority on the panel, he scrutinized the Justice Department's botched effort to track guns illegally shipped to Mexico.
"It'll be full employment for a lot of lawyers in town who advise clients on Capitol Hill, and the White House counsel would have to staff up again," Jim Manley, a former aide to Senate Democratic leader Harry Reid, said in a phone interview. Grassley is "especially into investigations of waste, fraud and abuse," Manley said.
When Republicans take control of the Senate in January, Grassley will become one of several new Republican chairmen leading panels that oversee areas including judiciary, tax policy, energy and environmental regulation.
Their agendas will contain items seeking to dismantle Obama's record. They want to repeal a medical-device tax helping fund Obama's health-care law, rein in regulation of pollution, and ease enforcement of consumer laws opposed by banks.
As the Judiciary panel's top Republican, Grassley used his staff to investigate the Justice Department's Operation Fast and Furious, which allowed illegal gun purchases in the U.S. in an effort to link the weapons to Mexican cartels.
'Tremendous' Power
Panel chairmen "have a tremendous amount of power," said Ron Bonjean, a Republican strategist and onetime aide to former Senate Majority Leader Trent Lott. "They are akin to Mafia bosses, basically."
Republicans gained at least seven Senate seats in the Nov. 4 election and expanded their House majority. For now, Democrats keep their 55-45 Senate control in the lame-duck session that begins today. Among the priorities for the session are funding the government after Dec. 11, reviving lapsed tax breaks and financing the fights against Ebola and Islamic State.
Grassley is in line to replace Senator Patrick Leahy, a Vermont Democrat, as Judiciary chairman.
"Oversight is too often overlooked as Congress focuses on new legislation," Grassley said in an e-mailed statement this week. "My goal is to promote transparency and accountability and restore the committee's role as a true check on the massive and powerful federal bureaucracy."
He'll probably wield the gavel as senators question Loretta Lynch, Obama's nominee to become attorney general, during confirmation hearings. Mitch McConnell, a Kentucky Republican set to be Senate majority leader, wants to delay Lynch's confirmation vote until 2015.
IRS Scrutiny
Grassley may also take aim at the Internal Revenue Service over the extra scrutiny it gave Tea Party groups seeking tax-exempt status, said Michele Swers, an associate government professor at Georgetown University in Washington.
"You can imagine him trying to reignite some of those things," Swers said. "He cares a lot about whistleblowers."
The Senate Environment Committee will also see its focus turn. Oklahoma Republican Jim Inhofe, who has called climate change a hoax, will try to "neutralize" what he considers overreach by the Environmental Protection Agency, Bonjean said.
"Instead of pushing for regulations on the coal industry, he would likely work on issues to disable the agency from enforcing or implementing those regulations," Bonjean said.
Inhofe is in line to replace Environment and Public Works Chairwoman Barbara Boxer, a California Democrat with a 90 percent lifetime rating from the League of Conservation Voters.
'Completely Opposite'
"This is going to be a completely opposite agenda," said Swers of Georgetown University. "She's all about fighting greenhouse gas and climate change, and he's not sure he wants to say climate change exists." Inhofe's staff declined to comment on his goals for the committee.
While Republicans still won't have enough votes to overcome minority-party delaying tactics on legislation or override a presidential veto, committees led by party members can create headaches for Obama.
Manley said another chairman who may focus on investigations is Senator John McCain, the Arizona Republican likely to head the Armed Services Committee. McCain, the Republican presidential nominee who ran against Obama in 2008, would replace Senator Carl Levin, a Michigan Democrat who is retiring.
"It will be all Benghazi, all the time," Manley said, referring to the 2012 attack on a U.S. diplomatic outpost in Libya that killed four Americans.
McCain's Platform
The position also would give McCain a platform to criticize Obama's approach on combating Islamic State terrorists as well as U.S. spending on the Navy Littoral Combat ship, being built in two versions by Lockheed Martin Corp. and Austal Ltd., and Lockheed's F-35 fighter jets.
On the Senate Budget committee, top Republican Jeff Sessions of Alabama will probably become chairman, taking over from Senator Patty Murray, a Washington Democrat.
Sessions is "not one who has in the past been bipartisan in his negotiating," Georgetown's Swers said.
Sessions said in a statement the "immediate emergency" facing Republicans is Obama's "disastrous planned actions" on immigration. The president said last week he'll act by year's end to halt deportations for some undocumented immigrants if Congress doesn't move to rewrite the law.
Some leadership shifts may not be as sharp.
Appropriations Panel
Thad Cochran, the Mississippi Republican in line to be Appropriations Committee chairman, "will be less partisan than some of his colleagues in terms of running his committee," said James Thurber, director of the Center for Congressional and Presidential Studies at American University in Washington.
This will be Cochran's second time in the job after holding it from 2005 to 2007. He'll take over from Maryland Democrat Barbara Mikulski.
"He's a legislator who respects the institution; he's not a bomb-thrower," Thurber said in a phone interview. Cochran probably would ensure Democrats on the committee can secure some funding for their local projects, instead of ostracizing them, he said.
Similarly, Thurber said Senator Lisa Murkowski, the Alaska Republican likely to take charge of the Energy Committee, "gets along with the Democrats very well and she got along with Mary Landrieu," a Louisiana Democrat and current chairwoman.
Frequent Collaboration
The two senators have frequently collaborated on energy production issues, such as pushing to authorize the Canada-U.S. Keystone XL pipeline. Landrieu is in a Dec. 6 runoff election against Republican Representative Bill Cassidy to retain her seat.
Republican chairmen of two other panels, the Finance Committee and the Banking Committee, may get help from Democrats in pursuing some of their goals.
Orrin Hatch, the Utah Republican who is currently the top Republican on the Senate Finance Committee, is expected to take the gavel from current chairman Ron Wyden, an Oregon Democrat.
The Republican-led Senate should pursue tax-law changes and "strike away" at Obama's health-care law, Hatch said in an e-mailed statement.
Thurber said that may include an effort to repeal a tax on medical devices, such as pacemakers and defibrillators -- a levy also opposed by a number of Democrats. Boston Scientific Corp. is among the device makers that have fought to repeal it.
Richard Shelby, an Alabama Republican who was Banking Committee from 2003 to 2007, is expected to resume that post and replace retiring Democrat Tim Johnson of South Dakota.
Dodd-Frank Bill
Shelby is unlikely to seek action on more than 20 bills passed by the Republican-led House to unravel the 2010 Dodd-Frank financial law. Instead, he's expected to seek bipartisan support to weaken parts of the law, which he opposed, current and former congressional aides have said.
Those may include eliminating the director's job at the Consumer Financial Protection Bureau and requiring more disclosure by the Financial Stability Oversight Council.
Senate Republicans generally award committee chairmanships to the senior party member on a panel. Still, seniority alone doesn't guarantee the top position, especially in the House.
Most House panel leaders are expected to stay the same as Republicans remain in power. One exception is the Ways and Means panel, where Paul Ryan, a Wisconsin Republican who now leads the Budget panel, and Representative Kevin Brady of Texas have both said they want the gavel.