Is Europe's New Leader to Blame for Luxembourg's Sweetheart Tax Deals?
By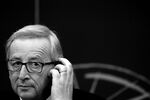 Less than two weeks after taking office as the European Union's chief executive, Jean-Claude Juncker faces growing outrage over potentially illegal tax deals that Luxembourg offered to hundreds of multinational corporations during his long tenure as the prime minister and finance minister of the tiny European nation.
Speaking to reporters on Wednesday in Brussels for the first time since the deals were disclosed, Juncker said he was "not the architect" of tax rulings that enabled more than 340 global companies to shave billions of dollars off their tax bills by funneling profits through Luxembourg. Leaked documents released on Nov. 5 by the International Consortium of Investigative Journalists showed that Luxembourg granted rulings to such companies as PepsiCo, Ikea, FedEx, and Deutsche Bank, allowing them to cut their tax rates in some instances to less than 1 percent.
The "Lux Leaks" disclosures have sparked calls for Juncker to resign as head of the European Commission. The EC has pledged a crackdown on tax evasion and is already investigating Luxembourg and other countries for allegedly illegal deals offered to such companies as Amazon and Fiat. Critics say the situation creates a conflict of interest for Juncker, who was Luxembourg's finance minister from 1989 to 2009 and served concurrently as prime minister starting in 1995, stepping down from that job last year.
Juncker told reporters there was "no conflict of interest." While saying he was "politically responsible for what happened" during his tenure as prime minister, Juncker said he had no role in crafting the corporate tax deals. "There is nothing in my past indicating that my ambition was to organize tax evasion," he said.
Before it's here, it's on the Bloomberg Terminal.
LEARN MORE