#Grubergate: How the 'Architect of Obamacare' Became the Possible Focus of a House GOP Investigation
Jonathan Gruber has become the GOP's enemy number one.
By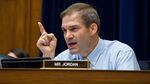 Jonathan Gruber has had better weeks. For months, citizen journalist Rich Weinstein has been digging up video of the MIT professor, who has never shied away from the description "Obamacare architect," describing how the still-loathed health care law was passed. Weinstein's latest find, a video of Gruber thanking the "stupidity of the American voter" for allowing the law to pass muster with CBO, has gone viral and led to similar finds, the latest one capturing Gruber in celebration of the "basic exploitation of the lack of economic understanding of the American voter."