Gallup Editor Corrects Obama's Estimate
He should have said 9/25ths of Americans went to the polls, not a third.
By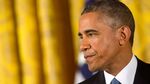 No one, including President Barack Obama, denies that Nov. 4 was a tough night for Democrats. But that's not stopping Gallup from adding a little statistical refinement to the equation.