Convincing India Inflation Still a Threat Is Rajan's Task
Sandrine Rastello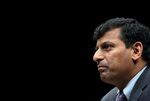 Reserve Bank of India Governor Raghuram Rajan may become a victim of his own success.
After zeroing in on inflation since taking over the central bank 14 months ago, the rate has dropped below his 6 percent target for January 2016. Traders are betting on the steepest interest-rate reduction among emerging markets as Finance Minister Arun Jaitley calls for lower borrowing costs and economists advance their rate-cut forecasts.
Rajan now has to convince Jaitley and the traders that India's inflation battle is far from over. While oil prices have fallen to a four-year low, his deputies warned this month that inflation has a "long way to go" as conflicts in Ukraine and the Middle East may weaken the rupee as the U.S. withdraws stimulus.
"The assumption that a lot of people are making is that the growth cycle in India cannot pick up without a rate cut," while the central bank has argued "actually it's not interest rates but other factors that have been hindering growth," said Sonal Varma, an economist at Nomura Holdings Inc. in Mumbai, who predicts Rajan will keep rates unchanged until the end of 2015. "Which one is true, we will know in the next 12 months."
Consumer prices rose 5.52 percent in October from a year earlier, the slowest pace since the index was created in January 2012 and slower than the 5.69 percent median estimate in a Bloomberg survey, according to government data yesterday. Curbing inflation is crucial for boosting growth, Rajan has said. The Reserve Bank forecasts a 5.5 percent expansion for the Indian economy in the year through March 2015, slower than the 8.7 percent seen between 2006 to 2010.
Rate-Cut Calls
Interest rates are a disincentive to industry and it's time to "moderate" rates as inflation has "somewhat stabilized," Jaitley said in an interview with the Times of India published Oct. 25. His call was echoed last week by Anand Mahindra, chairman of India's biggest SUV and tractor maker Mahindra & Mahindra Ltd., at an event in New Delhi organized by the World Economic Forum and the Confederation of Indian Industry.
"There aren't many signs of an entrenched rebound or recovery," Shilan Shah, an economist at London-based Capital Economics Ltd., said by phone. "The rate cut is going to come onto the agenda a lot sooner than many people seem to expect," perhaps as soon as next month, he said.
The Reserve Bank is due to review policy on Dec. 2. While economists in a Bloomberg survey say the authority will keep the repurchase rate at 8 percent through 2014, the median estimate is for a cut to 7.75 percent between April-June, sooner than an earlier projection of the first reduction in the final quarter of 2015.
Swaps Drop
Interest-rate swaps show investors expect India's benchmark rate will drop by about 100 basis points, or 1 percentage point, by the end of 2015, according to data compiled by HSBC Holdings Plc. That's the steepest cut among the 14 emerging markets tracked.
India's inflation will average 6.1 percent in the year through March 2016, UBS AG predicted today, lower than 7.7 percent this fiscal year and 10.9 percent in the previous 12 months. A December rate cut "would not be a significant surprise," economist Edward Teather wrote in a research report.
The yield on the 10-year sovereign bond will fall to 6.5 percent by March 2016, the bank predicted. It rose to 8.19 percent from 8.16 percent as of 1:12 p.m. in Mumbai today. The rupee weakened 0.1 percent to 61.5425 per dollar and the S&P BSE Sensex index was little changed.
Token Cut
While the central bank has shown independence from political pressure, Rajan may make a "token cut" in March directed at the government when data shows his 8 percent inflation goal for early 2015 is secured, said Mole Hau, an economist with BNP Paribas SA in Hong Kong.
"Given inflation now is likely to undershoot the target, that would be a good chance for them to do a cut and then that would be a good signal to the government as well," he said. The move would be akin to saying "we have done our part, the ball's now in your court," Hau said.
Since taking charge of the Reserve Bank in September 2013, Rajan has raised rates three times. The bank is now working with the government toward adopting a new monetary policy framework that'll include a formal inflation target and a rate-setting committee. Prime Minister Narendra Modi's government has scrapped subsidies on diesel fuel and has allowed more foreign investment to shrink the budget deficit to a seven-year-low of 4.1 percent of gross domestic product.
Oil Prices
Lowering rates "would be stimulative for the economy," said Dariusz Kowalczyk, an economist at Credit Agricole CIB in Hong Kong. The relationship between Rajan and the government "is fairly good and the central bank will be able to make the decision independently," he said.
Kowalczyk predicts a cut in December and another between April-June before the U.S. Federal Reserve begins raising its rates.
The scope for Rajan to use monetary policy to spur India's economic recovery has increased as crude prices have plunged 28 percent since June, easing import costs for a nation that ships in about 80 percent of its oil.
'Long Way to Go'
While oil's fall is a "boon," the inflation rate still has "a long way to go," H.R. Khan, a deputy Reserve Bank governor, said Nov. 7 in New Delhi. The inflation rate is still "significantly high," Deepak Mohanty, the central bank's executive director, said Nov. 11 in Mumbai, adding that geopolitical tensions persist and may weaken the currency.
The European Union and the U.S. are considering further sanctions against Russia and Ukrainian separatists after the reported movement of tanks, artillery and combat troops into eastern Ukraine.
"As a central bank you have a very different objective" with a policy horizon "longer than any other," said Suvodeep Rakshit, an economist at Kotak Securities Ltd. in Mumbai, who predicts that Rajan will hold rates at least until February. "The essential point is what kind of credibility the RBI wants to build up right now."
(A previous version of this story was corrected to show that BNP Paribas referred to 2015 inflation goal in 12th paragraph.)
Before it's here, it's on the Bloomberg Terminal.
LEARN MORE