China's Move With U.S. on Pollution Spurs Climate Deal
Alex Morales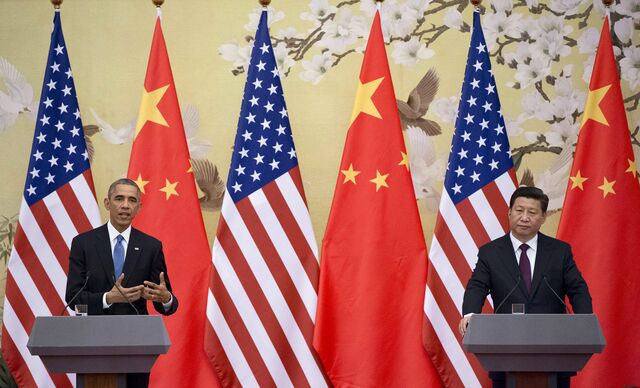 China's decision to join with U.S. President Barack Obama in reining in greenhouse gases jump-starts the global fight against climate change, removing an excuse for inaction in developing nations.
Chinese President Xi Jinping broke ranks with India, Brazil and South Africa in setting a target for the first time to reduce fossil-fuel emissions by 2030. In turn, Obama pledged to double the pace of cutting carbon dioxide starting in 2020.
The U.S. and China are the biggest polluters, responsible for almost 40 percent of the gases linked to global warming. Their new partnership toward a global limit is essential to draw countries whose emissions are rising into a deal that the United Nations intends to adopt at the end of 2015.
"This could be a first critical step to unlocking the logjam in the climate-change negotiations," said Yvo de Boer, who oversaw the UN effort on global warming from 2006 to 2010, in a telephone interview from Seoul. "It becomes much easier for other pieces of the puzzle to fall in place."
For China, already the world's biggest market for solar and wind power, the move helps address growing health concerns within its own population and from foreign companies about smog. It adds to China's growing diplomatic influence as world leaders wrapped up an Asia-Pacific summit in Beijing and gather for a Group of 20 meeting in Australia.
Obama's Challenge
Obama, with just two years left in his term, faces thornier issues in pulling off his part of the deal, with Republicans that will soon control both houses of Congress hostile to the regulatory changes he must rely on to meet his climate goals.
"This unrealistic plan, that the president would dump on his successor, would ensure higher utility rates and far fewer jobs," Mitch McConnell of Kentucky, the Republican leader in the Senate, said in a statement from his office in Washington.
'Opening Bids'
Environmental groups were also skeptical the diplomatic breakthrough will be enough to hold global warming to 2 degrees Celsius since the industrial revolution. That's the guideline endorsed by world leaders as the maximum that can be safely endured. Envoys from some 190 nations meet next month in Lima, Peru, to discuss a global deal on climate change.
"These new targets from China and the U.S. must be seen as opening bids in the negotiations rather than final numbers," said Samantha Smith, head of climate and energy at the environmental group WWF.
Global temperatures are on track to warm by 3.6 degrees Celsius by the end of the century, the International Energy Agency said today. That's quicker than the shift in the climate when the last ice age ended about 10,000 years ago and threatens to bring more violent weather, rising sea levels and more intense drought.
Hurdle Removed
The deal announced by Obama and Xi in Beijing is significant for the U.S. because it starts to remove one of the reasons Congress in Washington had not to act on climate.
The Senate opposed then-President Bill Clinton's effort to ratify the 1997 Kyoto Protocol because it set limits for industrial nations only and left none for developing nations including China and India.
Obama's attempts to pass cap-and-trade legislation to limit carbon emissions during his first term were blocked by Congress. This time around, Obama plans to bypass Congress using existing legislation and his regulatory powers, the White House said.
Since 1997, China surpassed the U.S. as the biggest polluter and India moved up to third. China's pledge that emissions will peak around 2030 "is a signal of groundbreaking progress from the world's largest polluter," former U.S. Vice President Al Gore said today in a statement.
'Breakthrough'
"Today's announcement is the political breakthrough we've been waiting for," said Tim Wirth, a former senator who led U.S. negotiations in the runup to Kyoto. "If the two biggest players on climate are able to get together, from two very different perspectives, the rest of the world can see that it's possible to make real progress."
To date, developing countries have resisted setting pollution targets, saying richer nations that created the problem should move first. India, Brazil and South Africa have called for the UN to consider the historical emissions of all nations in fixing how much each country should act. Even so, they've agreed to come up with contributions to a new deal by the end of March.
'New Arguments'
"Those who have been arguing that the United States shouldn't act on climate because other countries like China won't join us will now need to look for new arguments to justify their real goal of avoiding any limits on carbon," said Alden Meyer of the Union of Concerned Scientists.
The UN-led process underway envisions all nations setting pledges in the first quarter. That will lead to a deal in Paris in December 2015 that will take affect starting in 2020, when the current limits in the Kyoto Protocol lapse. The European Union has promised to cut emissions by 40 percent by 2030 from 1990 levels, the most ambitious program announced to date.
Pressure on Australia
"It definitely puts a lot of pressure on those countries who are highlighted as being laggards -- in particular Australia, Canada and Japan," said Felix Preston, a senior research fellow in Energy, Environment and Resource Governance at Chatham House. "The fact that China and the U.S. have been able to work together to forge an agreement at the right time to inject momentum into the talks marks a step-change in the diplomacy."
The scale of the problem remains enormous. Global emissions must be cut by as much as 70 percent in the four decades through 2050 to stand the best chance of limiting the temperature rise to 2 degrees Celsius, the UN Intergovernmental Panel on Climate Change said on Nov. 2. Most known fossil-fuel reserves would need to remain unburned to achieve that goal.
'Bound Together'
"The two biggest emitters have come to the realization that they are bound together and have to take actions together," said Li Shuo, a Greenpeace climate campaigner. "There is a clear expectation of more ambition from these two economies whose emissions trajectories define the global response to climate change."
The Alliance of Small Island States, which is pushing for a tougher temperature goal to prevent rising seas from swamping their lands, said in a statement that the U.S. and China must provide more details of their pledges.
"We recognize the importance of bilateral cooperation between these two countries but the numbers must add up," said ministers from the 44 small island and low-lying nations that make up AOSIS. They also called for increased aid to help them cut their own emissions and adapt to climate change.
Goals to Come
Calls seeking comment from India Environment Minister Prakash Javadekar weren't answered in New Delhi. Other big economies yet to spell out their goals include Japan, Australia and Canada.
The new targets mean that emissions in the U.S. and China will converge by 2030 at 12 tons per capita, more than double the global average today, according to India's Centre for Science and Environment.
"If this is the benchmark set by the world's two biggest economies -- and two biggest polluters -- we are on a completely catastrophic path," CSE Deputy Director-General Chandra Bhushan, said by phone.
The world is now very different from when the Kyoto accord was signed, according to de Boer, who oversaw a failed attempt to broker a new deal in Copenhagen in 2009.
"At the time of Kyoto, the world still revolved around Japan, the U.S. and Europe," said de Boer, now director-general of the Global Green Growth Institute in Seoul. "Now, the epicenter for progress is a common understanding between the U.S. and China."
(An earlier version of this story was corrected to fix a misspelling in the name of Mitch McConnell.)
Before it's here, it's on the Bloomberg Terminal.
LEARN MORE