China Gets a 'C' on Market-Opening Reforms, as Obama Departs Beijing
By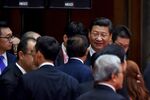 China's hosting of the Asia-Pacific Economic Cooperation forum, which closed yesterday in Beijing, will no doubt be deemed a resounding success. There were the usual declarations of shared goals and strategic partnership by the 21 participating countries, including Russia, Vietnam, Japan, Mexico, Chile, and Australia.
And Presidents Barack Obama and Xi Jinping made global headlines with their announcement of plans to reduce carbon emissions in the world's two largest economies. "This is a major milestone in the U.S.-China relationship," Obama said at a news conference with Xi in Beijing. The plan is "an ambitious but an achievable goal," he said.
But a key question, one of great import not just to the U.S. but to the world economy, was left unanswered throughout the meetings. Simply put, are China's leaders still serious about implementing the sweeping financial, fiscal, and social reforms announced last November? And how achievable is the road map they pledged to a year ago?
During the joint press conference held with Xi, Obama referred to the central reform promise made during the party's Third Plenum last year, allowing the market to play a "decisive" role in the Chinese economy. "We welcome reforms being discussed here that would give the market a defining role in the Chinese economy," the U.S. president said.
For Obama and American businesses, not to mention their counterparts in many other countries, the hope is that China will start to dismantle more aggressively the privileges still given to government-owned companies. Those include easy access to funding and guaranteed control over some markets. In talks with Xi, Obama says he "did emphasize the need for a level playing field, so foreign companies can compete fairly, including against Chinese state-owned enterprises."
So far there is little evidence of progress on that. "It remains politically correct to lend to state-owned enterprises, even if they are not as creditworthy," says David Hoffman, managing director for China at the Conference Board and co-author of a recent report, "The Long Soft Fall in Chinese Growth: Business Realities, Risks and Opportunities." "All the reforms required are politically difficult because they involve changing power structures, and structural changes are difficult everywhere," says Hoffman.
A survey of 15 economists released by Bloomberg News shows limited success in carrying out the reforms pledged by China's leaders. While China's government overall "scored a 'C' for progress on President Xi Jinping's policy blueprint announced a year ago," it got lower grades on other measures. Asked to appraise the progress of reform on state-owned enterprise restructuring, China was given a grade of 'D.' ("'A' represents very effective, 'B' is exceeded expectations, 'C' is met expectations, 'D' is lagged behind expectations, and 'F' is a fail," Bloomberg News explained.)
Also unimpressive: implementing crucial land tenure reforms intended to give farmers more ownership rights to their fields and pushing financial liberalization by freeing up the Chinese yuan and allowing banks more leeway to set market-based interest rates. Both were also given a 'D.'
Where China has made real headway is in carrying out fiscal reforms, including allowing local governments more freedom to issue bonds (the only 'B' grade earned in the survey). On environmental protection, population policy, and hukou or household registration changes, the economists said China had met expectations.
Before it's here, it's on the Bloomberg Terminal.
LEARN MORE