Carney-Yellen Neck-and-Neck on Being First to Raise Rates
Eshe Nelson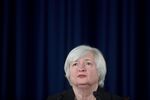 Federal Reserve Chair Janet Yellen may just beat Bank of England Governor Mark Carney to the first interest-rate increase since the financial crisis.
Investors extended bets yesterday on how long the BOE will keep its benchmark at a record-low 0.5 percent after officials cut their growth and inflation forecasts. Markets are now pricing in a quarter-point increase by November next year, Sonia forwards show. As recently as August, wagers were for around February. In the U.S., the Fed is seen acting by September.
"This is almost going to be like a horse race to the finish line on who's going to go first now, whereas only three or four months ago that wouldn't have even been close," said Andrew Goldberg, a global market strategist at J.P. Morgan Asset Management in London. "The key in both countries is going to be to see what happens in wages and because of that the U.S. is now in the lead."
Presenting the BOE's quarterly Inflation Report, Carney cited the "specter of economic stagnation" in the euro area, the biggest market for British exports, and said U.K. inflation could slow to below 1 percent within months.
The yield difference between two-year gilts and similar-maturity Treasuries narrowed to below 7 basis points today, the least since October 2013. Out to five years, U.S. rates are 16 basis points higher than gilts. They were lower late last month.
Fed First
"Whereas in the middle of the year the BOE was happy to go ahead of the Fed, now we're in a world where the BOE will likely follow the Fed," said Mike Amey, a fund manager at Pacific Investment Management Co. in London.
U.S. policy makers have kept their benchmark target for overnight lending between banks in a range of zero to 0.25 percent since December 2008. Investors are betting the first rate increase will come in 10 months, Morgan Stanley data show. Speaking in Abu Dhabi today, New York Federal Reserve President William C. Dudley said market expectations of a move in mid-2015 or later are reasonable.
"We are behind the Fed in terms of timing," said Ian Winship, head of sterling bond portfolios at BlackRock Inc., the world's biggest money manager with more than $4 trillion of assets. In the U.K., "we're looking at September or October for a full hike," he said. "The impact of the disappointment we've had globally is having an impact on U.K. monetary policy."
Wage Pickup
Tentative signs of a revival in U.K. wages, which Carney says will determine when rates increase, emerged in government figures yesterday. Pay growth accelerated to 1 percent in the third quarter, with wages excluding bonuses outstripping consumer-price inflation for the first time since September 2009.
Last month, the Fed ended its bond-purchase program, citing improvement in the U.S. labor market, moving it closer to higher rates. Since then, data showed U.S. employers added 214,000 workers in October and the unemployment rate fell to a six-year low.
"There is growing expectation in the market it's going to be the U.S.," said Vatsala Datta, a U.K. rates strategist at Royal Bank of Canada in London. "We have to look at the wage data, that's the key point the BOE is directing us to."
Before it's here, it's on the Bloomberg Terminal.
LEARN MORE