Bruce Springsteen Covers Anti-War Song at Veterans Day Concert, Debate Ensues
Is the Concert for Valor the right venue to perform a song that questions the way a nation treats its soldiers?
By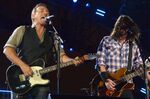 Sometimes being "The Boss" means ruffling a few feathers. During Tuesday night's Concert for Valor in the nation's capital, Bruce Springsteen joined Zack Brown and Dave Grohl on stage and belted out a spirited version of the classic Creedence Clearwater Revival song "Fortunate Son."
While Springsteen has often performed the song, which John Fogerty, himself a military veteran, wrote in 1969 to express his opposition to the Vietnam War, it's selection for the Veterans Day concert stirred controversy among many who witnessed it.
Here, then, is a sampling of some of the song's lyrics:
Some folks are born made to wave the flag

They're red, white and blue

And when the band plays "Hail to the Chief"

They point the cannon at you

 

Some folks are born silver spoon in hand

 Lord, don't they help themselves 

But when the tax men come to the door

Lord, the house look a like a rummage sale

 

Yeah, some folks inherit star-spangled eyes

They send you down to war

And when you ask them, "How much should we give?"

They only answer, more, more, more
Writing at the conservative Weekly Standard's blog, Ethan Epstein summed up the problem that many seemed to have with the song choice:
The song, not to put too fine a point on it, is an anti-war screed, taking shots at "the red white and blue." It was a particularly terrible choice given that Fortunate Son is, moreover, an anti-draft song, and this concert was largely organized to honor those who volunteered to fight in Afghanistan and Iraq. 
Over at liberal site Think Progress, Jessica Goldstein took a different view.  
This reaction seems like… not really an accurate read of this song! Not really at all. Real patriotism entails exactly this: publicly challenging the status quo in a country you believe to be capable of better things. 
 The debate has continued on social media:
Many conservatives have been angry with Springsteen ever since he released another anti-war song in 1984 that he also performed Tuesday night, "Born in the U.S.A."  Amid the success of that song, both columnist George Will and President Ronald Reagan began citing Springsteen, prompting the singer to speak out from the stage.
By the time the New Jersey native took the extra step of endorsing and campaigning for Barack Obama for president in 2008, and hitting the campaign trail for him with his guitar, he had lost more than a few GOP fans. So the choice of "Fortunate Son," is not really that surprising, even if the venue where he performed it may be. 
Fogerty—who was drafted in 1966 before being discharged a year later, when he formed CCR—has eloquently explained his inspiration for the song. 
 From the video above:
"I did not support the policy or the war. If you asked anyone in the army at that time why we were going to Vietnam to fight, no one could answer… Probably the real answer was keeping the war machine going, and business. To sacrifice a young man's life with no real purpose, taking these young men from their mothers and families, was wrong. I was the guy who was living this life… I had very strong feelings about all of this… To me, those soldiers were my brothers. I understood them because I was also drafted into the army just like them. The protest was against the policy, not the soldiers… I had been thinking about all this turmoil… It had been on my mind for some time how sons of certain senators escaped the draft. It was very upsetting to me, as a young man of draft age. In political conventions, many times, states will use the phrase "favorite son," as they recognize their leader to make a nomination. The songwriter in me thought about this, and I changed the name to 'Fortunate Son,' a phrase to describe what we have all witnessed in our time… When the troops came home, Nixon turned his back on the soldiers. As my feelings about this got stronger and stronger, I knew I had to write about it."