Barclays Falls After FX Settlement Delay Reduces Discount
Stephen Morris and Richard Partington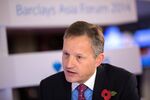 Barclays Plc fell in London trading after the bank delayed reaching an agreement with regulators investigating global currency rigging, potentially increasing the size of fines it faces in Britain.
Five banks, including Royal Bank of Scotland Group Plc and HSBC Holdings Plc, agreed today to pay about $3.3 billion in the U.S., U.K. and Switzerland to settle a probe into manipulation of foreign-exchange rates. Barclays, which was set to be part of that group and receive a 30 percent discount on the British fines, dropped out due to issues with New York regulators, according to a person with knowledge of the matter, who asked not to be identified because the talks aren't public.
"After discussions with other regulators and authorities, we have concluded that it's in the interests of the company to seek a more general coordinated settlement," the London-based bank said in an e-mailed statement today.
The settlements are the first since authorities began investigating whether dealers at the biggest banks colluded to rig benchmarks used by fund managers to determine what they pay for foreign currency. The U.S. Office of the Comptroller of the Currency may also announce penalties today, while the U.S. Justice Department and Britain's Serious Fraud Office are carrying out criminal investigations.
New York DFS
The bank's shares fell as much as 2.6 percent and were 2 percent lower at 230.15 pence at 2:18 p.m. in London, compared with a 0.8 percent drop by HSBC and a 0.8 percent decline by RBS. Barclays stock has declined 15 percent this year.
Unlike the other banks that settled today, Barclays is regulated by the New York State Department of Financial Services, led by Superintendent Benjamin Lawsky, which is pursuing its own investigation into currency rigging.
Lawsky refused to sign on to the FCA settlement because he viewed it as too weak, according to another person briefed on the matter who asked not to be named because the discussions were confidential. Barclays decided to withdraw from the group settlement because of issues with Lawsky's department, said the first person, without elaborating on what the complications were.
Barclays was the first bank to settle a probe for interest-rate manipulation in 2012. Tracey McDermott, director of enforcement at the U.K. Financial Conduct Authority, said Barclays is still being investigated in the currency probe.
Barclays declined to comment on the FCA's remarks on discounts, the New York regulator, or elaborate on how it aimed to benefit from delaying reaching a settlement.
The New York Times reported Barclays's perceived complications with the U.S. state's regulator earlier. Barclays was concerned about civil liabilities and the potential of having its New York banking license revoked, the Times said.
Bear Ammunition
Barclays's stance "is that it is more helpful to secure a global settlement with all the key regulators rather than being picked off one by one," said Ian Gordon, an analyst at Investec Plc in London, who estimated losing the biggest U.K. discount may cost Barclays as much as 40 million pounds ($63.7 million).
That sum "may or may not be offset by the perceived benefit of holding out for a global settlement," Gordon said. "It's small in the greater scheme of things, but potential ammunition for the bears."
By missing the full reduction on offer from U.K. regulators, Barclays may have to add to the 500 million pounds it set aside in the third quarter to settle currency probes, Sandy Chen, an analyst at Cenkos Securities Plc with a sell rating on the stock, said by e-mail.
"If you settle outside of stage one, which is the earliest stage, which is what this is, you get a 30 percent discount," McDermott said at a press conference in London today. "If you settle outside of stage one you get a 20 percent or 10 percent discount."
UBS, Citigroup
The currency probes have expanded to include whether traders used confidential information to take bets on unauthorized personal accounts, and whether sales desks charged clients excessive commissions in the $5.3 trillion-a-day market. The FCA said on its website today that its probe of Barclays would cover the bank's G10 spot currency trading business and its wider foreign-exchange operation.
Barclays, led by Antony Jenkins, said it considered a settlement with Britain's FCA and the U.S. Commodity Futures Trading Commission "on closely similar terms to those announced" today.
Swiss bank UBS AG was ordered to pay the most in fines, totaling $800 million, followed by Citigroup Inc. with $668 million and JPMorgan Chase & Co. at $662 million. RBS was fined about $634 million and HSBC $618 million, according to statements today from U.S., British and Swiss regulators.
'Usual Suspects'
"Some of the other usual suspects -- Goldman Sachs Group Inc., Credit Suisse Group AG and Deutsche Bank AG -- are 'missing' too," Investec's Gordon said.
Barclays was fined 290 million pounds by U.S. and U.K. authorities in 2012 after admitting it submitted false London and euro interbank offered rates. That led to the resignation of then-Chief Executive Officer Robert Diamond and Chairman Marcus Agius, and prompted a revamp of the bank's culture and investment bank.
"Barclays is the only bank we are currently investigating from an enforcement perspective," McDermott said. "The other banks are subject to other remedial steps. I'm not commenting on any other institutions than the ones we've named."
Before it's here, it's on the Bloomberg Terminal.
LEARN MORE