Abe Poised to Gamble Political Future on Snap Election
Andy Sharp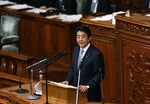 Japanese Prime Minister Shinzo Abe is poised to gamble his political future on a plan to call a snap election next month, halfway into his current term.
"It's always risky to dissolve the house when you're the prime minister," said Robert Dujarric, director of the Institute of Contemporary Asian Studies at Temple University in Tokyo. "Unless you win a crushing victory, you have nowhere to go but down."
Abe is likely to go to the people on Dec. 14 after postponing an unpopular sales-tax increase slated for October 2015, according to people with knowledge of his plan, who asked not to be identified because they aren't authorized to speak. Abe is less than two years into his four-year term and elections aren't due until 2016.
For Abe, postponing the tax would buy him goodwill with voters, increasing his chances of winning a broader mandate to push through unpopular security legislation next year. The risk is that Abe's strategy backfires and rather than increasing his majority in the lower house, his ruling Liberal Democratic Party loses seats. That would leave him vulnerable to a leadership challenge from within his own ranks.
"It's far from certain," he will pick up support, said Koichi Nakano, professor of political science at Sophia University in Tokyo. "His government may end up with fewer seats, and he may even face calls to step down as prime minister as a result."
Chief Cabinet Secretary Yoshihide Suga yesterday denied reports that Abe told party leaders he planned to dissolve the Diet and delay the tax increase.
Support Declining
The approval rating of Abe's cabinet fell to 44 percent this month, down from a peak of 66 percent in April last year, according to polls by public broadcaster NHK. Support for Abe's LDP party was even lower at 37 percent, but despite the drop, backing for the opposition Democratic Party of Japan was at just 8 percent, the poll shows.
With nearly three-quarters of respondents in an NHK poll this week saying the tax increase should be postponed or canceled, Abe can cast the election as a referendum on his plan to delay the hike. Such a move may overshadow public opposition to Abe's bid to bolster the nation's defense and restart nuclear power plants shuttered since the Fukushima nuclear disaster, both opposed by a majority of Japanese, polls show.
Tobias Harris, an analyst at Teneo Intelligence, sees an early election as a bid by Abe to negate any potential threats from within his own party at a leadership conference next year.
"I don't think there's any chance of the LDP losing power entirely, given that the opposition parties are scrambling to find candidates to run against the LDP," Harris said. "An election at this juncture is more about Abe's strength vis-a-vis his own party than about the opposition."
Election Platform
The LDP is considering adopting measures to protect against the impact of a weaker yen and higher energy prices as part of its campaign platform for a possible election, the Nikkei newspaper reported today, without citing anyone.
The benchmark Topix stock index has gained 1.2 percent so far this week, and is trading near a six-year high, as speculation built about an early vote. The yield on the country's benchmark 10-year bond has risen 4 basis points in the same period to 0.52 percent on concern that a delay in sales tax increase will boost the debt.
The Democratic Party has been in disarray since losing power to Abe in December 2012, with support stuck at less than 10 percent in every NHK poll since the last election.
Tax Trip
The Democrats came to power in a landslide in 2009 after sweeping the LDP from a half-century of almost unbroken rule. Blighted by in-fighting and its perceived poor response to the 2011 earthquake and nuclear disaster, the party disintegrated in 39 months. They also unwittingly laid the sales-tax trap for Abe.
Abe's predecessor Yoshihiko Noda, in a deal with the LDP and its political partner Komeito, passed legislation to set a two-stage sales-tax increase into motion to convince investors the government was serious about taming the world's biggest debt. The move contributed to the DPJ's trouncing at the ballot box in 2012.
The Democrats have recently shown some signs of life, with their attack on former Justice Minister Midori Matsushima over allegations of financial impropriety contributing to her resignation. DPJ leader Banri Kaieda said on Nov. 10 that his party would respond head-on to the challenge should Abe call an early election.
"The voters are yet to be convinced that the DPJ is a viable alternative after their 'failure' in office," said Nakano said. "Even so, it's not impossible that the DPJ makes significant gains at the LDP's expense, but it all depends on whether it can fight the election on its terms."
Before it's here, it's on the Bloomberg Terminal.
LEARN MORE