$14,000 Burgundies Help Prop Up Stagnant Fine Wine Market
Guy Collins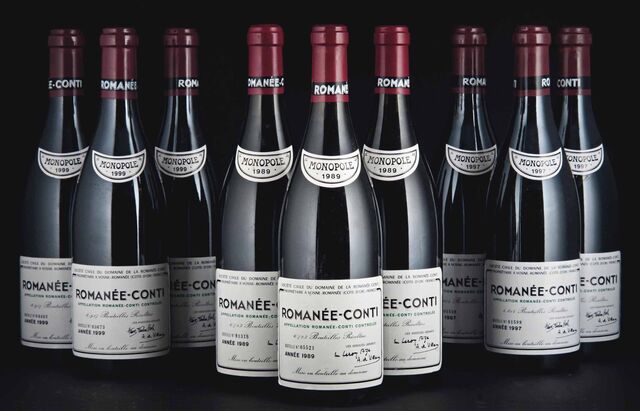 Historic Burgundies at almost $14,000 a bottle and rare, more recent wines from Bordeaux's Pomerol district have been in demand at auctions in London and Chicago, even as the broader fine wine market stagnates.
Romanee-Conti Burgundy wines -- probably the hottest label at auction today -- led a London sale by Christie's International Plc on Nov. 6, with a three-bottle lot of 1999 Domaine de la Romanee-Conti selling for 25,850 pounds ($41,000). A 12-bottle case of neighboring Richebourg 1961 DRC fetched 23,500 pounds.
The auction took place as collectors hunt for rarer vintages from areas including Burgundy, California and northern Italy, while the broader market for more recent Bordeaux wines continues to lack momentum. The Liv-ex Fine Wine 50 Index, tracking top Bordeaux, has fallen for the past two months after gaining in August, and has dropped for 13 of the past 14 months.
"Regions outside of France and Italy accounted for a record 6.8 percent of all trades by value on Liv-ex" last month, the London-based wine market said on its blog. "Prices for these regions are also on the rise; the Rest of the World 50 Index climbed 1.6 percent in October, continuing its streak as the best performing sub-index over the past three years."
Leading Pomerol wines at a two-day Hart Davis Hart Wine Co. sale in Chicago ended Nov. 1 included 12 bottles of Petrus 1982, which fetched $53,775, according to its e-mailed results. Three cases of Petrus 2009 featured in the auction, the most expensive of which sold for $35,850, while a 12-bottle lot of Le Pin 2010 sold for $33,460.
Cheval Blanc
The Hart sale included wines from the cellars of Chateau Cheval Blanc, Chateau Montrose and Chateau Pichon-Longueville, Comtesse de Lalande. A bottle of Cheval Blanc 1959 sold for $3,107 while six magnums of Pichon-Lalande 1995 fetched $3,585.
Last month rare Californian wines were prominent at Wally's Auctions in New York. Three double-magnums of Californian producer Screaming Eagle's 1992, 1993 and 1994 vintages sold for $174,000 while three double-magnums of Harlan Estate from the same three years sold for $45,600, according to an e-mailed statement from Wally's.
Top champagne in the sale included a magnum of Dom Perignon Oenotheque 1988, which sold for $4,200.
Wally's makes its Los Angeles auction debut with a two-day sale starting Nov. 21 featuring wines from the collection of Roy Welland, former owner of Manhattan restaurant Cru, including champagnes and Burgundies.
Before it's here, it's on the Bloomberg Terminal.
LEARN MORE