Southeast Asia Looks to a Weakened Obama for Assurances on China
David Tweed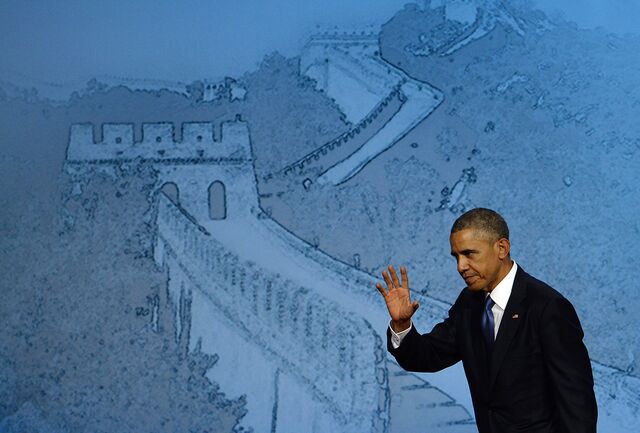 U.S. President Barack Obama skipped a visit to Asia in October last year because of a partial government shutdown at home. Having lost control of Congress, he faces fresh questions about his commitment to supporting Southeast Asian nations against a more assertive China.
During his first trip since elections handed the Republican party a majority, Obama will attend meetings in Myanmar's capital Naypyidaw that start today. Southeast Asian leaders, embroiled in territorial disputes with China, will be looking for clues on whether the loss of legislative power risks weakening the U.S. engagement in Asia.
The meetings are sandwiched between the Asia-Pacific Economic Cooperation forum in Beijing and a Group of 20 summit in Brisbane, where Obama will deliver a speech on U.S. policy in the Asia-Pacific region. His Myanmar visit comes three months after China rebuffed a U.S. proposal to defuse tensions in the South China Sea.
"Who is Barack Obama now after the mid-term elections?" said Ernest Bower, senior adviser at the Center for Strategic and International Studies in Washington. Asian leaders "will be trying to discern whether he has the commitment and political capital, political capability to follow through" on the U.S.'s commitments to Asia.
Obama skipped a slew of summits held in Southeast Asia in October last year to deal with an impasse with Republicans in Congress, allowing China to portray itself as the senior power at the meetings. One way to reaffirm U.S. leadership in the region would be for Obama to conclude the Trans-Pacific Partnership trade pact because "economics is the foundation bedrock for security in Asia," said Bowers.
'Serious Leaders'
The U.S.-led TPP includes four Association of Southeast Asian Nations members -- Brunei, Singapore, Malaysia and Vietnam -- as well as Japan, Australia, New Zealand, Canada, Chile, Mexico and Peru. An excluded China is seeking to create a separate regional free-trade zone, a proposal initiated in 2006 that's made little progress. TPP leaders at a meeting in Beijing this week agreed to make concluding their accord a priority.
"I think that serious leaders like President Obama are able to take local political issues in their stride and at the same time to focus on the enduring interests of the United States and the enduring values which are good for the whole world," Australian Prime Minister Tony Abbott said in an interview in Beijing on Nov. 10.
In Beijing on Nov. 8 for APEC-related meetings, Secretary of State John Kerry said the U.S. took its "enduring interests" in Asia seriously.
Redouble Efforts
"America's security and prosperity are closely linked to the Asia-Pacific," Kerry said, and "Obama has asked me to redouble my own efforts in the region over the course of the next two years."
Security will be a focus for Southeast Asian leaders at the Myanmar meeting. China claims about 90 percent of the South China Sea, a vast area through which half the world's merchant tonnage flows, carrying about $5.3 trillion of goods each year. Vietnam, the Philippines, Malaysia, Brunei and Taiwan also have claims, some overlapping.
A year ago Chinese Premier Li Keqiang told Asean leaders at a meeting held in Brunei that the South China Sea was a place of peace and friendship. Since then ships have clashed off Vietnam and China has accelerated a program of reclaiming land around some contested features in the sea.
China's Map
Efforts in August by the Philippines and Kerry to secure a freeze on any actions that might provoke tensions in the waters were rebuffed by China's Foreign Minister Wang Yi. Talk of rising tensions was exaggerated, he said, questioning the motives of those calling for limiting activities.
China's claims are based on a nine-dash line map first published in the 1940s, and its foreign and defense ministries argue this allows it to do what it likes in its sovereign territory. That line was used to justify dragging an oil rig into waters also claimed by Vietnam in May and, after the rig's removal in July, the completion of an airstrip on Woody Island, part of the contested Paracel group.
"China's reaction to the competing territorial claims of its neighbors seems to have changed from one of 'reactive assertiveness' to one that might be called 'pro-active assertiveness': taking the initiative, to put pressure on its smaller neighbors to abandon their claims in the South China Sea," said Stephen Hadley, a former Bush administration national security adviser, in a speech this month at the Lowy Institute in Sydney.
Taiwan Drills
China isn't the only provocateur. Taiwan's coast guard last week conducted live-fire drills on an island in the disputed Spratly chain. Vietnam's foreign ministry said the drills violated its sovereignty and threatened maritime security. Taiwan's Minister of National Defense Yen Ming visited Taiping island on Nov. 5 to inspect the defense readiness there, the Taipei-based Central News Agency reported.
As China's economic clout has increased, it has expanded its navy, modernized its submarine fleet and upgraded its bases on Hainan Island, which juts into the South China Sea. That build up, alongside comments from Xi in May that Asian security should be left to Asians, prompted some analysts to speculate that China wants the U.S. to exit Asia.
If that is China's goal, this year's assertiveness has backfired as some South China Sea claimants reach out to the U.S. for diplomatic and military support. The Philippines signed a defense cooperation agreement that will boost the American troop presence in the country and allow U.S. facilities on Philippine military bases. Vietnam and the U.S. are moving closer about 40 years after their war ended, with the U.S. agreeing to sell it non-lethal weapons such as patrol boats.
Air Intercepts
Aside from China's rebuff of Kerry's proposal, U.S.-China military tensions are simmering. In August a Chinese fighter jet flew within 20 feet of a U.S. surveillance aircraft flying near Hainan Island, an encounter the Pentagon described as "unsafe and unprofessional."
The countries have started talks aimed at avoiding dangerous intercepts, though the new commander of U.S. air forces in the Pacific, General Lori Robinson, said this month that there is still a risk of such encounters.
At the conclusion of their meeting Asean leaders will probably urge members to peacefully resolve their maritime disputes with China, Voice of America reported Nov. 5, citing a draft communique. The statement will note progress on talks for a code of conduct for claimants in the South China Sea.
Maritime Threat
China agreed in July last year to talks on a code of conduct, though little progress has been made. Until recently some Asean nations that don't have South China Sea claims may have been reluctant to anger China by backing calls for a resolution to the disputes: Asean expects bilateral trade with China to reach $500 billion by 2015 and $1 trillion by 2020. That may change.
"One thing you'll see out of the East Asia summit and the U.S.-Asean summit is a growing determination to stand up to China on the maritime security threat that China has very practically posed," said Bowers.
Before it's here, it's on the Bloomberg Terminal.
LEARN MORE