politics
Rob Portman Plays Dress-Up
From floor speeches to softball on the National Mall, the Ohio senator is always ready with the right ensemble.
By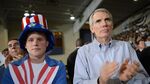 Rob Portman is a senator, a budget nerd, a potential 2016 presidential candidate—and a man of many, many uniforms. 
Based solely on our in-depth analysis of his Twitter postings over the past nine months, the 58-year-old Republican from Ohio appears to have appropriate attire for every possible occasion.  So, if you start seeing him with sweater vests and parkas, that might be a sign he's getting ready for Iowa and New Hampshire. Neither has a major league team of its own, which means Portman may also need to start adding small-college apparel to to his sports ensembles.

Let's review:
First, the basics. Portman's got suits and ties for those important official events. (Note, however, that his tie includes the blue and gold of the Ukranian flag.)
For the less formal occasions--say, your energy jobs fairs or your industrial park visits—he chooses the classic senatorial in-state look: Dress shirt, no tie.
That's where most male politicians' wardrobes end. Boo-ring. Despite what you may have heard, Rob Portman is absolutely not boring. He knows how to express sartorial loyalty to Ohio sports. Let's start with the south and the Cincinnati native's home teams. 
Then there's the central. (Shh, don't remind anyone he went to law school at the University of Michigan.)
And Portman doesn't forget Cleveland and its long-suffering fans.
 But Portman is no mere athletic spectator. Oh, no. He paddles.
 He plays softball on a field near his office.
He fishes.
 He bicycles distances longer than the highway from Akron to Youngstown.
Wait. There's more. Portman's palette isn't just Senate blue and Bengals orange. Having an Irish festival in your town? He's got green.
 Is it Valentine's Day again? The senator is ready.
Is your drinking water supply suffering from an algae bloom? Portman's there in shortsleeves.
 Doing an aerial tour of damage? He's got shades.
We couldn't find any pictures of Portman in fake glasses and a mustache, but we're hoping he does have a sense of humor. Because, well…
(With props to BuzzFeed, for treading some of this ground in 2012.)
Before it's here, it's on the Bloomberg Terminal.
LEARN MORE