Relae Chef Christian Puglisi on New York Pizza and His New Book
by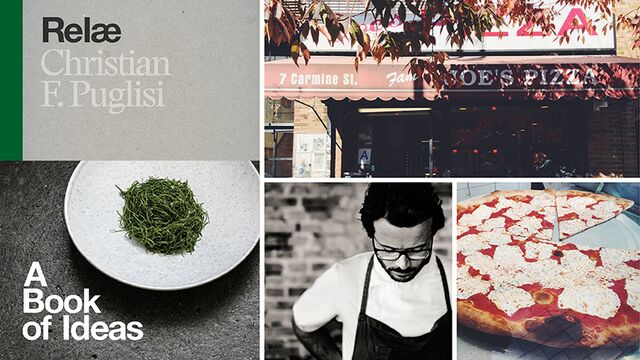 It's 11 a.m. and Christian Puglisi, the Copenhagen-based chef, is standing outside Joe's Pizza in the West Village. "Excuse me, but are you planning on standing here for a while?" a tour guide asks him. "My group is going to be here in a second!" He budges, politely.

The chef was born on the coast of Sicily and moved to Denmark as a kid. He was the sous chef at Noma in Copenhagen for two years before he split to open his own restaurant. Now Puglisi has a few, including Relae -- the subject of his first cookbook, "Relae, A Book of Ideas."
Puglisi is 32, but looks a little younger eating pizza in a T-shirt and jeans, wearing thickly framed glasses that magnify his baby-doll eyelashes. Though Puglisi's has visited pizzerias here before, this is his first trip to an old-school New York slice shop, the kind that serves crisp, sparsely topped slices on grease-stained paper plates, with half-empty shakers of powdered cheese cluttering the counter. "They make very, very good pizza here," he says, referring if not precisely to Joe's, then to American pizzerias in general.
His book, released today, doesn't look like many of the luxurious cloth-bound titles out this fall. The cover is raw embossed cardboard, and the pages have cutout tabs to mark the chapters, each full of Puglisi's short, thoughtful essays on ingredients (unripe strawberries), textures (crunch!), and techniques (pickling fish). I most enjoyed reading his introductions to the recipes, which go way beyond the usual compulsory headnote to really guide cooks through the minutiae of his process, which could begin with a quick introduction to Danish lumpfish season, and the differences between the male and female fish composition.
Hidden Food
Puglisi says his goal at Relae was to make food that was personal, excellent, and affordable. "I only had three cooks," he explains between bites of cheese pizza, "so we didn't have time to plate everything with tweezers." Out of necessity, Puglisi pushed toward a simpler, faster plating style that hides some components in the dish under an outer layer.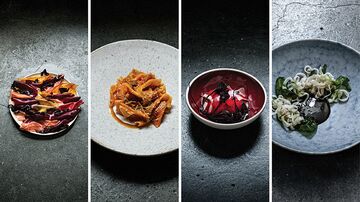 Flip through "Relae" and you'll see how this approach led to unexpectedly beautiful compositions like the sheep's milk yogurt with radishes under scales of upside down nasturtium leaves. It's as if some tiny mythical creature is taking a nap on your plate and any second now, it's going to unfurl and yawn. This presentation style -- simple, but hinting at something more complex underneath -- is a calling card for Puglisi, along with a whole young crew of chefs who want to deliver serious, refined food without the frills (and costs) of traditional fine dining.

Baest Pizza
Right now Puglisi has pizza on the brain. His latest restaurant, Baest, opened in October a five-minute bike ride away from Relae. It has a wood-fired oven that burns Danish beech and maintains a temperature of around 850 degrees so the pizzas can bake fast and hot.
Though Puglisi does make fresh mozzarella from organic Danish milk, the restaurant doesn't fit neatly into the New Nordic category. Nor is it obsessed with being strictly Italian. Puglisi likes to tinker with his pizzas, topping them with, say, black trumpet mushrooms, leeks, and pancetta he cures himself, and sometimes omitting tomatoes and cheese so he can play with more variables.
"I just want to do my own thing," he says, folding Joe's bendy slice, "and not try to make an authentic Neapolitan-style pizza."
At Baest the doughs are made with organic flour (a mixture of Danish and Italian) that go through something closer to a sourdough fermentation, long and slow, with levain -- the original starter came from a German pastry chef at Noma.
"I want people to get a properly fermented dough, soft and tender inside, not too chewy," he explains. "I want them to taste the grain and the wheat, not the yeast. For them to get the crisp sensation from all the small burned bubbles. It's not just a carrier for stuff -- the crust alone should be worth eating!"
A cook slams the fridge door at Joe's, and a tower of empty pizza boxes wobbles threateningly above Puglisi's head. "There are many, many ways to make good pizza," he says respectfully, polishing off his slice.
Tejal Rao is the New York food critic for Bloomberg. Follow her on Twitter @tejalrao and Instagram @tejalra or contact her at trao9@bloomberg.net


Before it's here, it's on the Bloomberg Terminal.
LEARN MORE