Nigeria's Jonathan Bids for Second Term With Peace Pledge
Elisha Bala-Gbogbo and Daniel Magnowski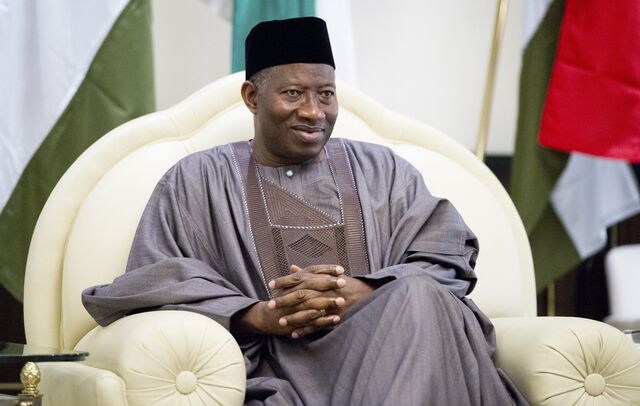 Nigerian President Goodluck Jonathan announced he will seek re-election in a vote scheduled for Feb. 14, promising to end a raging Islamist insurgency and improve infrastructure in Africa's biggest economy.
"We have had to deal with the wave of insurgency that has swept through some parts of our dear country," Jonathan, wearing his trademark fedora and dark traditional shirt, told thousands of supporters at a rally today in Abuja, the capital. "Clearly this has cast a dark cloud on our nation, but we will surely win the war against terror."
Jonathan, a 56-year-old southern Christian from the oil-rich Niger River delta, succeeded Umaru Yar'Adua, a northern Muslim, after his death from an undisclosed illness in 2010. He won a fresh mandate a year later even amid opposition from party members aggrieved that he didn't honor an unwritten rule to rotate the presidency between the mainly Muslim north and the predominantly Christian south.
The president has faced criticism from the opposition and citizens for failing to check corruption, deliver on promises of economic reform and contain the five-year insurgency in the country's north by the Islamist Boko Haram group that has killed thousands. The insurgency has taken "a new and frightening dimension," Muhammadu Buhari, a former military ruler and opposition presidential challenger, said on Oct. 15 as he declared his candidacy for February's vote.
While "Jonathan will probably win the election," he has been weakened by Boko Haram's attacks, his failure to curtail corruption and defections of senior party members to the opposition, said Sebastian Spio-Garbrah, managing director at consultancy DaMina Advisors LLP.
"Goodluck Jonathan is facing longer odds this time," he said on a conference call from New York.
'Senseless War'
While the government announced a cease-fire with Boko Haram on Oct. 17, the insurgents fighting in the north continue to carry out almost daily attacks. In a video released two weeks after the truce was announced, a man claiming to be Abubakar Shekau, Boko Haram's leader, denied the rebels had struck any such deal and said more than 200 girls the group kidnapped in April had converted to Islam and were married.
Yesterday a suicide bomber disguised as a student killed at least 47 people at a school in the northeastern town of Potiskum.
"Many Nigerians have lost their lives and property to these mindless killings," said Jonathan. "We are equipping the armed forces and deploying special forces to engage the terrorists and end this senseless war."
Jonathan will run for the ruling People's Democratic Party, or PDP, which has won all Nigeria's general elections since Africa's top oil producer ended more than 15 years of military rule in 1999. His party's national executive endorsed him on Sept. 19.
His decision to declare the day after the school bombing was "absolutely callous" and Nigeria is still suffering from power blackouts, unemployment and "unprecedented corruption" under Jonathan's administration, Lai Mohammed, spokesman for the opposition All Progressives Congress party, said in an e-mailed statement.
Biggest Economy
Nigeria's naira fell 0.2 percent to 168.40 per dollar at 5:13 p.m. in Lagos, the commercial capital. The currency has retreated 2.7 percent this quarter as a decline in global oil prices threatens to put pressure on government revenues.
Jonathan listed accomplishments including an increase in cement production, a better road network, more universities, and the ascent of Nigeria to the rank of the 26th biggest economy in the world, which it achieved after a statistical overhaul in April.
"I am convinced I have kept my pact with Nigerians," Jonathan told the rally in Abuja's Eagle Square, where in 1999 the army handed over power to a civilian government. "But to take our country to the next level there is still more work to be done."
Before it's here, it's on the Bloomberg Terminal.
LEARN MORE