Look Beyond Mega Caps for U.S. Stock Leaders: Chart of the Day
David Wilson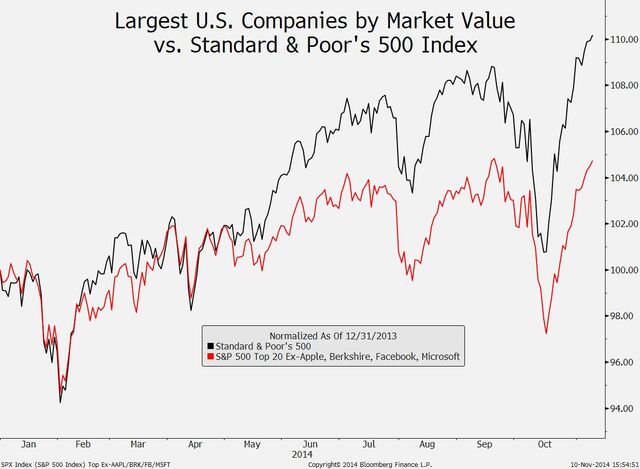 Investors looking to profit from a year-end rally in U.S. stocks might be better off avoiding the largest companies, according to Thomas J. Lee, co-founder and managing partner at Fundstrat Global Advisors LLC.
Only six of the top 20 companies in the Standard & Poor's 500 Index by market value have bigger gains than the benchmark this quarter, Lee wrote in a Nov. 7 report. For the full year, eight are ahead.
The CHART OF THE DAY tracks the group's performance this year without Apple Inc., Berkshire Hathaway Inc., Facebook Inc. and Microsoft Corp., its four leaders. The other top-20 stocks have collectively risen about half as much as the S&P 500, as shown in the chart with an equally weighted index. They have lagged behind a market rally in the past four weeks.
"It is a misconception that mega caps are driving performance," Lee wrote, referring to market capitalization. Instead, the 300 stocks ranked in the middle of the S&P 500 by market value have set the pace, the report said.
"Momentum stocks continue to lead," the New York-based strategist wrote. Fifteen of the year's 20 best performers in the S&P 500 also have gained more than the index this quarter, according to data cited in the report.
Lee favors health-care and technology stocks, two of the year's leaders among the S&P 500's 10 main industry groups, as well as energy shares, the worst performers. He compiled a list of 14 larger companies whose shares are worth buying, and none of them came from the top 20.
Before it's here, it's on the Bloomberg Terminal.
LEARN MORE