Lingerie Maker Revives as Aussie Drop Aids Manufacturers
Michael Heath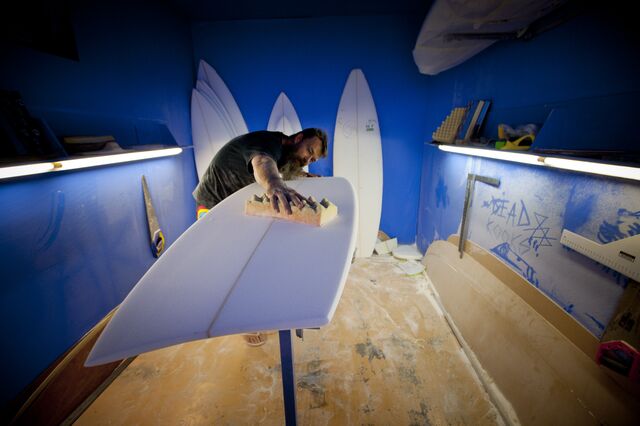 Gabrielle Adamidis worked three jobs just three years ago to keep her nascent lingerie-making business afloat as the Aussie dollar scaled record heights. Now she's riding the currency's slide to stronger sales.
"I feel like I've endured the toughest time a business could go through," said Adamidis, 32, who founded Hopeless Lingerie in Melbourne in 2008. "Now, as the Aussie dollar's gone down my business has picked up. It's made a big difference given my customers are mainly American."
The Aussie's 8 percent drop in the past two months is aiding industries from bra makers to surf-board builders and helped machinery and transport equipment exports rise 6 percent last quarter from a year earlier. The country's manufacturing industry, which makes up just 6 percent of gross domestic product, is reviving after being scorched by a currency whose victims included the 90-year-old domestic car industry.
Tom Folino-Gallo, owner of steel supplier and cement maker WGE Group, located two hours south of Sydney, said the weaker currency offered a reprieve to companies that had been "on life-support" for the past few years.
"My dream is that it goes to 78 cents; at that level we could sell everything we made," Unanderra-based Folino-Gallo said, adding he has cut headcount to 60 from 250 five years ago. "But another few cents might be enough to do the trick."
Aussie Surge
The Aussie averaged 93 U.S. cents in the past seven years and touched a record high of more than $1.10 in 2011. That compares with an average 68 U.S. cents in the previous seven years that included a record low of 47.8 cents in 2001. It was quoted at 86.79 U.S. cents at 11:56 a.m. in Sydney today.
The currency's surge was fueled by record terms of trade, or export prices relative to import prices, developed-world high interest rates, and resource companies pouring billions into new mines and energy fields.
Some industries didn't make it out the other side.
In February, Toyota Motor Corp. said it would stop production in Australia in 2017, joining Ford Motor Co. and General Motors Co. that announced last year they were pulling out. Australia's three car manufacturers haven't announced any plans to delay or reverse their decisions in response to the weaker currency.
120,000 Jobs
"We're continuing with our plans to stop in 2017," said Beck Angel, a Melbourne-based spokeswoman for Toyota. "The dollar was one of a range of factors" behind the decision to shut local car plants, she said. Kate Lonsdale, a spokeswoman for GM's Adelaide-based Holden unit, and Wes Sherwood, a Melbourne-based spokesman for Ford's local division, didn't immediately respond to messages left on their mobile phones.
In the 12 months through August, manufacturing employment has stabilized, rising 0.7 percent. That compares to the loss of more than 120,000 jobs in Australia in the previous five years to August 2013, representing about 12 percent of the industrial workforce, government data show.
"What we're seeing anecdotally is that the import replacement story kicks in fairly quickly," said Julie Toth, chief economist at Australian Industry Group, referring to consumers turning to local products as the weaker currency pushes up import prices. The food and beverage industry, for example, "seems to be responding quite quickly to movements in the dollar," she said.
That's been the case for some of the nation's surfboard manufacturers too, according to Michelle Blauw, co-owner of Currumbin, Queensland-based D'Arcy Surfboards.
Chinese Boards
At the currency's peak, Blauw's company lost export markets to Europe and struggled domestically as cheap Chinese boards swamped Australia. In response, she had to dismiss the company's eight staff, sell its premises and work from home.
"Things are changing and the market is improving and potentially our export markets could increase in the next couple of years," she said, adding the company has its own premises again. "We're definitely looking toward the future for growth again. We're not cowering in a corner like we were."
Optimism among the small producers could spark the "animal spirits" that Reserve Bank of Australia Governor Glenn Stevens is seeking to ignite the economy. The central bank cut rates to a record-low 2.5 percent in August 2013 to spur hiring and offset some of the currency's impact.
Consumer confidence rose 1.9 percent this month yet the index remained below 100 for a ninth month, signaling pessimists outnumber optimists, according to a Westpac Banking Corp. report today.
Still Overvalued
Stevens and his colleagues have said the Aussie dollar is still overvalued in light of weakening commodity markets. Prices of Australia's raw material exports have dived this year, led by about a 44 percent plunge in iron ore. The RBA has indicated it expects the currency to fall further than the 18 percent seen since April 2013, which would further help manufacturers.
"A significant re-benchmarking is under way" on the currency, said Michael Blythe, chief economist in Sydney at Commonwealth Bank of Australia, the nation's biggest lender. "Business has moved from the expectation of an Aussie stuck at 90 U.S. cents or higher to one where a currency somewhere in the eighties is seen as more likely."
Morgan Stanley's strategists project the currency will drop to 76 U.S. cents by the end of next year. That compares with the median forecast in a Bloomberg survey of strategists for 85 cents in 2015.
Yet a lower dollar also means local businesses could generate greater profits, potentially spurring more competition.
"There is a new crop of companies starting now, and when they start, they don't start with the highest possible salaries, they start on the back of a pick-up truck," said WGE's Folino-Gallo, 64, who has been in business since 1969. "It's not just a question of taking the dust covers off the machinery now the dollar is down. Either old people get new ideas, or new people will come to the market to provide them."
Before it's here, it's on the Bloomberg Terminal.
LEARN MORE