How Senate and Media Conservatives Wrote the GOP's Strategy for the Next Nomination Battle
Loretta Lynch's nomination is becoming the proxy fight that Jeff Sessions, Rand Paul, and Ted Cruz wanted.
By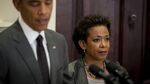 Back in September, Alabama Senator Jeff Sessions told Breitbart News reporter Matt Boyle about some leverage Republicans might have against President Obama's theorized "executive amnesty." Attorney General Eric Holder, a Breitbart bete noire, had already announced his post-election retirement. Republicans would likely hold a Senate majority after November's elections, and the president would be unable to ignore them. So Sessions proposed a test: The president's AG nominee had to clearly oppose any attempt by the president to defer deportations by executive order.