Heathrow-Gatwick Tussle Faces Public Test as Costs Spiral
Kari Lundgren and Chris Jasper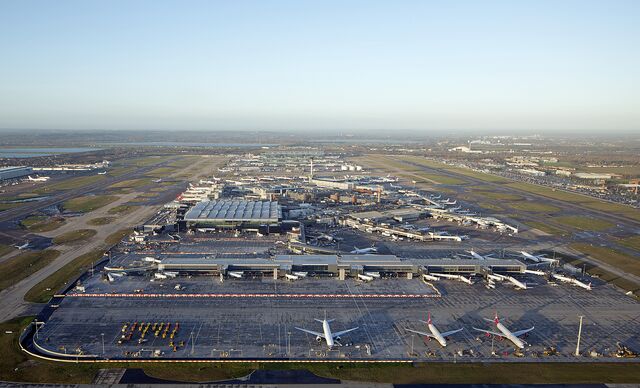 London's leading airports have underestimated expansion costs as they compete for a new runway, according to a report which says a bigger Heathrow would be of greater economic benefit while confirming Gatwick's credentials as a cheaper option.
At Heathrow, a third landing strip could be built for 18.6 billion pounds ($29 billion) or the northern runway lengthened for 13.5 billion pounds, while Gatwick's proposal would see a second runway built for about 9.3 billion pounds, according to the state-appointed Airports Commission, which said a consequent jump in user charges would also be greater than claimed.
The case for expanding Heathrow hinges on economic benefits that could exceed 200 billion pounds and create almost 180,000 jobs by 2050. A bigger Gatwick would add to GDP while limiting significant aircraft noise to fewer than the 760,000 people affected at Heathrow today. The bids now face 12 weeks of public consultation through Feb. 3, with the commission due to make a final recommendation after May's general election.
"We have not yet taken a view on which proposal strikes the most effective balance between the assessment criteria," Howard Davies, the former Financial Services Authority chief who is leading the study, said, adding that the consultation will allow for "evidence to be examined, challenged and improved."
Johnson Rebuff
London Mayor Boris Johnson said separately he's not prepared to accept that Heathrow and Gatwick are the only options for expansion and that his own proposal for a hub in the River Thames estuary -- dubbed Boris Island -- is superior.
Adding a third Heathrow runway would lift annual passenger capacity to between 132 million and 149 million by 2050 from 73.4 million this year, equivalent to Istanbul's planned new hub, the commission said, estimating that costs would be about 3.8 billion pounds higher than the 14.8 billion pounds stated by the airport's owner.
With the site serving 84 percent of London's long-haul market today, the additional footfall would likely maintain its position as a global transfer hub, it said.
"This shows that Heathrow's proposal is deliverable and is the only way to keep Britain at the heart of the global economy," Heathrow Airport Holdings Ltd. Chief Executive Officer John Holland-Kaye said in a statement.
Gatwick 'Momentum'
A two-runway Gatwick would boost passenger numbers to between 60 million and 96 million passengers a year by 2050, versus a current capacity of about 45 million, spurring growth at low-cost airlines like EasyJet Plc and potentially driving expansion of long-haul discount carriers, the commission said.
Economic benefits, while lower than those at Heathrow, could reach 127 billion pounds, with as many as 49,000 extra jobs by 2050. The expansion plan's cost would be 1.9 billion pounds higher than Gatwick's 7.54 billion-pound estimate.
With the study confirming the lower expenses of Gatwick's plan, together with the fact that even an expanded airport would impact fewer people that Heathrow does today, "momentum is building" behind the bid, CEO Stewart Wingate said.
Gatwick also highlighted the commission's view that the capacity question shouldn't boil down to a "binary" choice between a bigger hub and more point-to-point services, and that London requires "an airport system that caters for a range of airline business models."
'Get Neither'
Still, Davies, speaking at the annual Airport Operators Association conference in London, said that progressing both airport plans is not an option, given the funding challenges.
"If you said you wanted both, you'd get neither, because in the medium term there would be investment available for one of these projects, but only on condition that the other one wasn't going ahead," he said in response to questions.
Johnson, the London mayor, said on LBC radio that Gatwick "doesn't answer the exam question" in sustaining a single hub maximizing international connections to the benefit of Britain, and that Heathrow is too costly and hemmed in by urban sprawl.
"Howard Davies and his team are basically admitting that not only will Heathrow be an environmental catastrophe with huge adverse impacts in the west of London for vehicular pollution, for noise pollution, but also that it will cost a huge amount more than expected," he said. "I don't think by any means that the story is over."
A third proposal short-listed by Davies would extend Heathrow's existing northern runway so that it could handle jets taking off and landing at the same time.
The plan, championed by Jock Lowe, who was the longest serving Concorde pilot with British Airways, would expand capacity to 700,000 flights annually, 40,000 fewer than in the new-runway scenario, and could be in place by 2030.
Advanced by the Heathrow Hub Ltd. group independent of the airport's owner, the plan would cost about 13.5 billion pounds, 3.4 billion pounds more than estimated, the commission said.
Davies said he aims to hold open discussion sessions for local stakeholders in the Heathrow and Gatwick areas in coming months, and that it should become apparent which option "appears to be least hated."
Before it's here, it's on the Bloomberg Terminal.
LEARN MORE