Ukraine Says Rebels Calls Draft Amid New Conflict Concern
Kateryna Choursina and Brian Parkin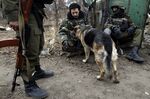 Ukraine said separatists in four rebel-held towns in the east have announced a full mobilization, as Germany warned of renewed violence and the European Union threatened further sanctions against Russia.
The draft was declared as "mercenaries" in the rebel regions of Donetsk and Luhansk continued to amass weapons, Andriy Lysenko, a spokesman for the Ukrainian National Security and Defense Council, said at a briefing in Kiev today.
"Everything suggests that the parties are making renewed preparations for violent conflict. We have to prevent that," German Foreign Minister Frank-Walter Steinmeier told reporters at a foreign-policy conference in Berlin.
The U.S., the U.K. and the EU are threatening to tighten sanctions after they accused Russia of continuing to arm rebels in eastern Ukraine, where a cease-fire has crumbled in the past week. Russian President Vladimir Putin, who briefly met his U.S. counterpart Barack Obama at a summit in Beijing yesterday, has denied military involvement in the conflict.
At least 4,035 people have been killed and 9,336 wounded in the conflict, according to United Nations estimates.
EU foreign ministers will discuss "restrictive measures" against Russia when they meet next week to review developments in Ukraine, Maja Kocijancic, spokeswoman for EU foreign-affairs chief Federica Mogherini, told reporters in Brussels.
More Sanctions?
German Chancellor Angela Merkel said further economic penalties aren't planned for now even as the EU is considering expanding sanctions on Russians to people associated with "illegal" elections in rebel-held areas of Ukraine. Even so, the bloc's focus is on the humanitarian situation and "actually getting a cease-fire," Merkel said at a news conference in Berlin today.
"Beyond that, further economic sanctions aren't planned for the moment," she said. "And we are certainly examining all reports that say weapons are being shipped into the region again. That certainly wouldn't contribute to stabilizing the situation."
The U.S. and its allies are stepping up criticism of Russia after a Nov. 2 election by the separatist republics of Donetsk and Luhansk raised tensions and threatened to plunge the region into open warfare again. With sanctions compounding the impact of falling oil prices, the central bank in Moscow said yesterday that Russia's economy will probably stagnate in 2015.
NATO Concern
NATO Secretary General Jens Stoltenberg expressed "concern about developments in Ukraine" at a news conference in Brussels with Slovenian Prime Minister Miro Cerar today. Separatists attacked government troops 13 times overnight with artillery, mortars and rifles, the Ukrainian defense council said earlier on its Facebook account, and troops holding the airport in the city of Donetsk came under renewed fire today.
Russia's actions pose a "grave danger to the rest of Europe," U.K. Prime Minister David Cameron said yesterday. Economic sanctions imposed on Russian individuals, companies and industries after Putin's annexation of Ukraine's Crimea in March are having an effect and the U.K. will "keep upping the pressure," he said.
'Illegal Actions'
"Russia's illegal actions are destabilizing a sovereign state and violating its territorial integrity," Cameron said in a speech in London's financial district. "We shouldn't need to be reminded of the consequences of turning a blind eye when big countries in Europe bully smaller countries."
In Washington, U.S. State Department spokeswoman Jen Psaki said the "costs to Russia will rise" if Putin ignores commitments signed under the cease-fire agreement Sept. 5 in Minsk, Belarus.
Andrei Purgin, deputy premier of the self-proclaimed Donetsk People's Republic visited Russia's upper house of parliament yesterday. He told the Russian senators that high turnout at the Nov. 2 votes "is a sign people trust the current authorities."
Purgin was joined in Moscow by Alexei Karyakin, chairman of the self-proclaimed Luhansk republic's supreme council. The rebels there will create a fully functioning state before deciding whether to try to join Russia, Karyakin said.
"Purgin isn't the first separatist representative to travel to Moscow, but his visit comes in the context of escalating violence," Otilia Dhand, an analyst at Teneo Intelligence in London, said yesterday by e-mail. "Purgin's visit points to what will probably follow afterward: the consolidation of separatist territorial control with Moscow's support."
Five soldiers were killed and 10 injured in the past 24 hours, Lysenko said. More than 1,000 troops have died and some 4,000 have been wounded, as of Oct. 11, since military operations began in April, he said.
Before it's here, it's on the Bloomberg Terminal.
LEARN MORE